Hot Rod Magazine Power Tour 1997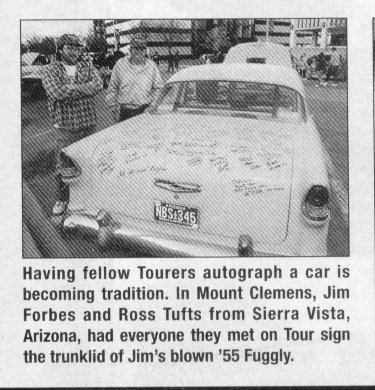 I got my 55 Chevy put together and running just in time to go on the first leg of the 1996 Hot Rod magazine Power Tour. It was so much fun that I decided I had to go all the way the next year. So, I spent the spring of 1997 doing work on the car getting it ready. I got the seats upholstered by Dave's Upholstery, built the roll bar using Ross's bender, overhauled the transmission, rebuilt the front suspension, swapped the 3.25 gears for 2.75s, and did the two tone primer job. Ross had been doing my machine work for years, he's a gearhead like me, and he had the opportunity to take off two weeks to go on the dream cruise--so off we went to LA to begin our adventure.
Day 1, Los Angeles, California, Thursday, May 8
Day 2, Las Vegas, Nevada, Friday, May 9
Day 3, Grand Junction, Colorado, Saturday, May 10
Day 4, Denver, Colorado, Sunday, May 11
Day 5, Goodland, Kansas, Monday, May 12
Day 6, Kansas City, Kansas, Tuesday, May 13
Day 7, St Louis, Missouri, Wednesday, May 14
Day 8, Springfield, Illinois, Thursday, May 15
Day 9, Lansing, Illinois, Friday, May 16
Day 10, Mount Clemens, Michigan, Saturday, May 17
The drive home took a couple days. We went 5500 miles, averaged 11.23 mpg, and had more fun than you can count.
The write up in Hot Rod magazine, in the September issue.