Selectric Typewriter Museum
Day 5 of the Hot Rod Power Tour 1997--Goodland, Kansas, May 12
This car was featured in the magazine. It was cutting edge at the time! but also amateur built.
The guys from Classic Chevy had trouble.
The driver meeting.
Another famous car....Gray Baskerville had just taken a pic of my car, he's ducking down to put the camera away.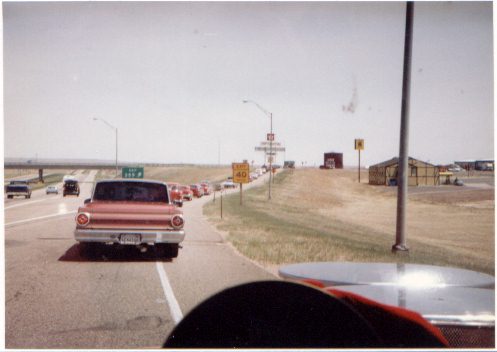 ahhh...the typical gas exit.
it's nice to be able to park next to these big name cars. And the guys who were driving them were great.
At the Kansas Vocational Technical School, they had a Cushman Truckster. So do I, so I took pics.
The Hot Rod guys getting ready for another day of driving.
That car is low! this is at the front of the hotel...they claimed I had called and cancelled our reservation, but they did have one more room, so we didn't have to camp in the car.
Next stop Kansas City, Kansas.