Link to the 2011 Typewriter Repairmen page
Read about the ROV (especiallly the control system) in SERVO magazine!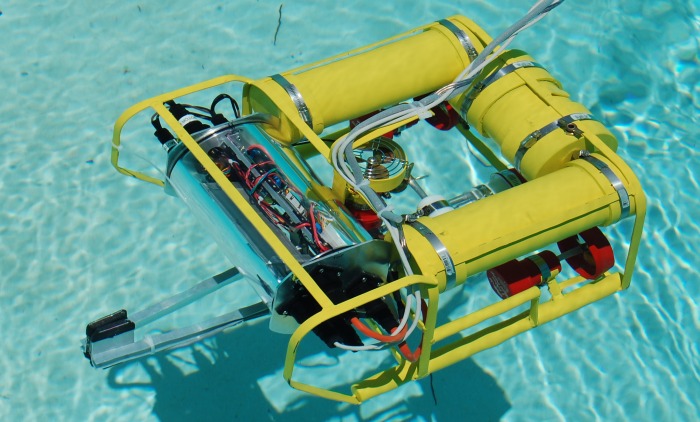 This is The Typewriter Repairmen's underwater robot, Bob (pronounced "not Bob"). This robot was designed and built to compete in the National Underwater Robotics Challenge, a competition put on by Arizona Promoters of Applied Science in Education in Chandler, AZ.
Link to the 2010 NURC robot Babs
The Typewriter Repairmen is a family robotics club. Jim, the Principal Instigator, is a "retired" mechanical engineer. He has worked with the local FIRST high school robotics team NERDS for the past three seasons as an engineering mentor, and discovered that it's about the most fun thing there is. Janet, his wife, has a Masters degree in Systems Engineering, and works at Ft. Huachuca. Jim's brother David is an Electrical Engineer at the University of Arizona's Steward Observatory, and also runs a side business Cathode Corner, which sells neat electronic gadgets. Jim and Janet's son Steve, who is nuts about robots, is also a mechanical engineer.
The NERDS have entered the NURC the past two years, and have entered again this year. While Jim and Steve like helping the NERDS, and continue to do so, they wanted to see if they could come up with a competitive robot on their own. Jim also thought it would be a neat way to get David into robotics, and possibly get David's sons interested too. Janet just got sucked into it...she has been a great help with the overall systems engineering aspects of the robot, and also has been willing to spend some money on it.

This page started out as a blog, and then partway through the project we divided it into separate pages. Because of this, some of the pages seem to be out of order--you need to start at the bottom, and read up. The Strategy and Design page details the design concept, and show the progression of the robot design from various nebulous ideas, to a firm concept, then to a final design. The Build page shows how the robot was built, from the first piece of aluminum turned in the lathe, through the welding of the frame, to the complete robot (including a photo gallery of the finished product). The Testing page includes early testing of various design ideas, and shows the continous testing of the robot parts as it was built. The Tech Report provides a more formal view of the design and build, and includes the Bill of Materials. All through the project we have been posting videos on youtube.
The batteries for our ROV are recharged using solar power. This report tells how it's done.
Contact us at jforb427@gmail.com