This is The Typewriter Repairmen's page for the 2019 National Underwater Robotics Challenge, a competition put on by Si Se Puede in Tempe, AZ.
The Typewriter Repairmen is a family robotics club. Jim, the Principal Instigator, is a "retired" mechanical engineer. He has worked with the local FIRST high school robotics team NERDS for the past 13 seasons as an engineering mentor, and discovered that it's about the most fun thing there is. Janet, his wife, is a retired engineer. Jim's brother David is an Electrical Engineer at the University of Arizona's Steward Observatory, and also runs a side business Cathode Corner, which sells neat electronic gadgets.
Link to the 2009 NURC robot notBob
Link to the 2010 NURC robot Babs
Link to the 2012 NURC autonomous robot Biff
All through the project we have been posting videos on youtube.
Contact us at jforb427@gmail.com
March 31, 2019
David bought a few control system parts to play with. Linus connected stuff together, and loaded some software, and made things work. The control system includes a Rapsberry Pi 3 (not the 3+), a Pixhawk controller, an Xbox gamepad, a laptop, and a 12v power source. It also has a BlueROV motor speed controller and one T100 thruster, and a USB camera.
This is the test setup.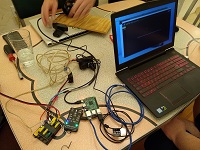 We discussed the robot design, and decided that we would plan on using the 6 thruster layout with two vertical in front, one vertical in rear, two forward on the sides, and a lateral thruster in the center. We discussed how to build the thing, and will start the design by making a "box" of thin 1" aluminum angle. We will try to design it so that the thrusters can be relocated easily if needed, and so the enclosure is easy to work on. Havign some expreience with redesigning Babs a few times, we know the importance of thruster location relative to the centers of mass, buoyancy, and drag, in all directions. Also we discussed the relative locations of the center of mass and buoyancy, with the tenative requirement that the robot be stable, but not too stable. The stability helps keep it level, but too much will make it hard to tilt if needed to reach down with the claw, for example.
We also talked about possible manipulators. David presented the idea of a "barb" to skewer the brain blood clots. We didn't get too far figuring out how to tilt it, though. We also looked at the BlueROV claw, and at the vEx claw. We discussed using the vEx claw with a BlueROV brushless motor, and using a combination of worm and spur gears to drive the claw. We figured that about 1 second opening/closing time would be good, and motor speed of 4000 RPM, would require about a 70:1 reduction.
We will probably order more parts soon, although we'd like to get a first draft of the overall ROV design in CAD first, and also spend some time refining the list of requirements. We are already pretty sure about a lot of the general requirements for the ROV, having played other underwater robot games. The specifics of manipulating stuff is where we have some questions.
March 10, 2019
David and I have been discussing electronics. Also talked about it with Kevin and Carol, and Linus. Some ideas include using a Pi in the ROV, and another on the surface, connected with an Ethernet cable. For power, we are considering a 48v system on the surface, with a relatively small two wire tether connected to a 48v to 12v switching power converter in the ROV. This would give us regulated power, and voltage drop on the tether would not affect motor performance much. We have a very preliminary list of requirements for the system here.
And we got Babs out, and plan to take her up to Flagstaff to show others a NURC robot. Recruiting new teams!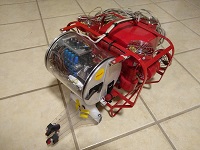 February 12, 2019
The first thing we need to do is analyze the requirements for this mission. Janet it working on a spreadsheet to do that.
February 1, 2019
NURC is back! We signed up for the event. Now, we have to figure out how to build a robot to play the game. We would like to design a new ROV that uses as many off the shelf parts as possible, and also we would like to get things done soon enough that other teams might get some new ideas of how to do things, by watching our progress. As usual, we are a bit late, and life is kind of busy right now with FIRST robotics.