My 55 Chevy - Build, Part I - 1995ish
Still on the trailer after hauling it home, summer 1995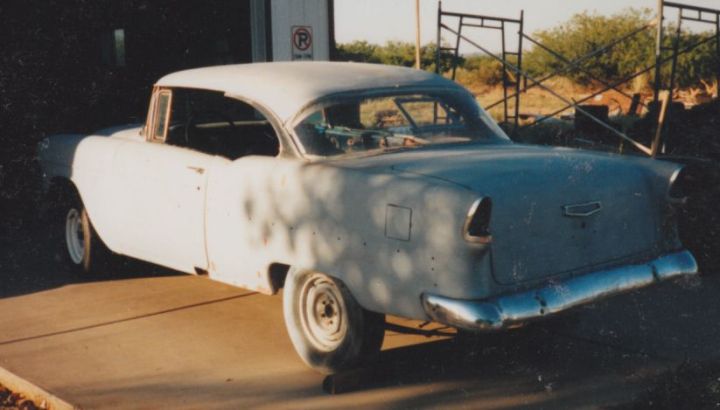 This is pretty much what I started with. Nothing inside the car, no engine/trans, had a late 60s Poncho 10 bolt rearend with wasted axles, and the only glass was the front and rear, held in with duct tape. On a positive note, almost all of the floor was there, and it had a clear AZ title. It did have a defroster duct in it, which held a pencil from a Phoenix lumberyard...with a 2 letter 5 number phone number. I guess it was an AZ car.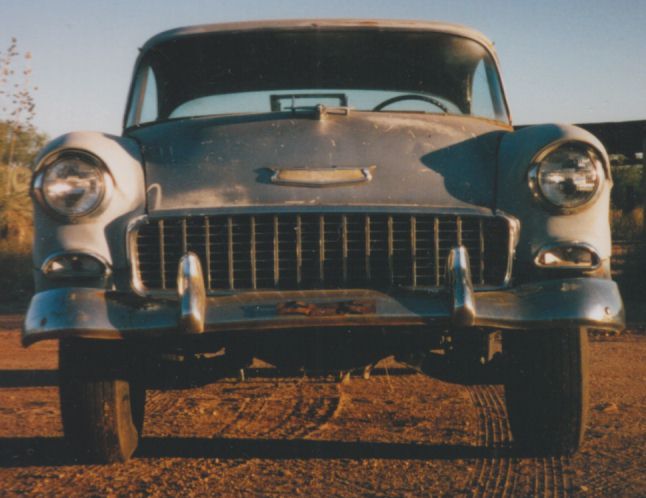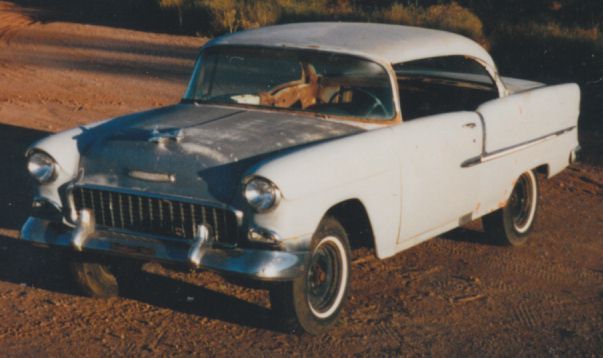 I scrounged for parts. A friend had some not quite as bad leftovers, I got the hood, trunk, rear bumper and some other stuff from him. Another friend had a grille. I found a 55 Pontiac hardtop parts car in Willcox for $350, which donated the pass side door, and all the window trim and door parts, as well as the rear seat. I gave the remains of the Pontiac to the guy who gave me the hood and stuff.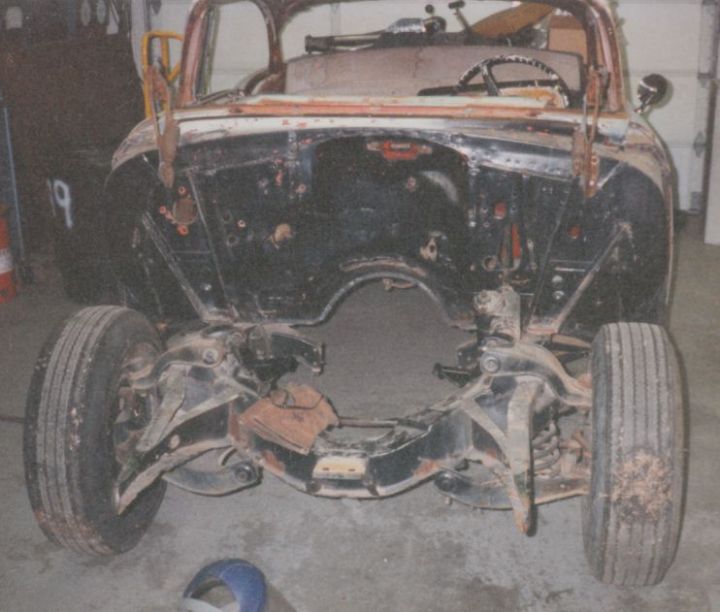 Playing with the motor mounts. See those pesky bellhousing mount brackets?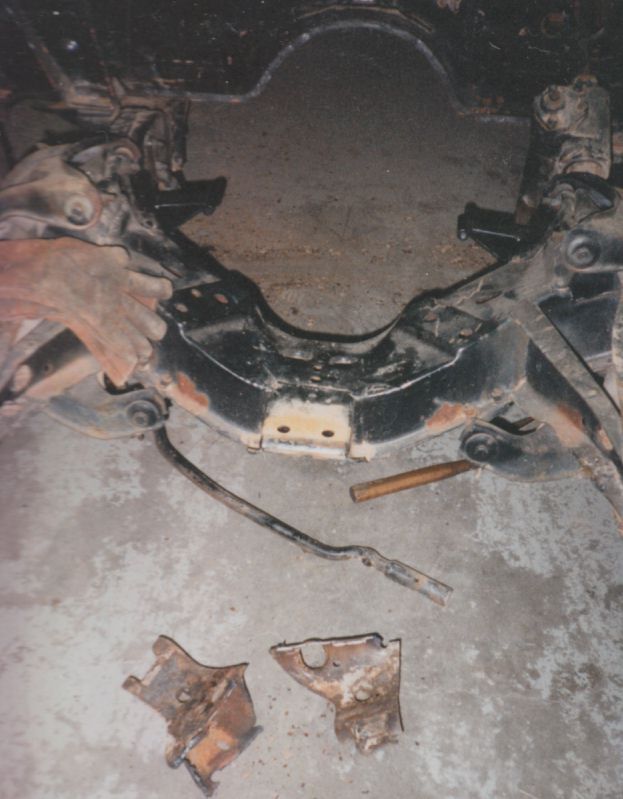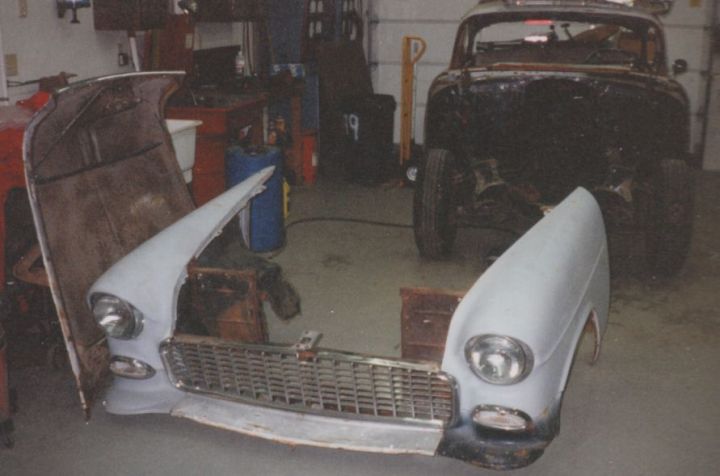 The doghouse off the car. Not much was holding it on.
Test fitting the headers and motor mounts. I got lucky and got some nice headers when they were still making them. The collectors tuck up nice, and only $200. The mock up engine is a 402 I had laying around.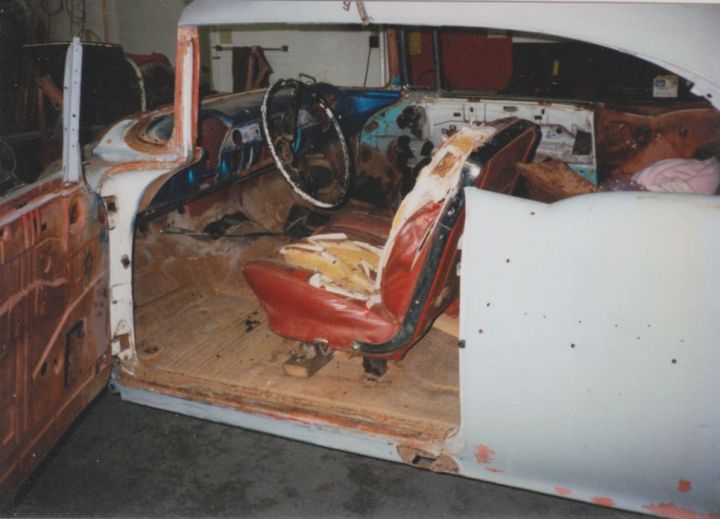 The inside, test fitting the 64 Catalina seat. Took me a while to get them installed, but they are a nice fit.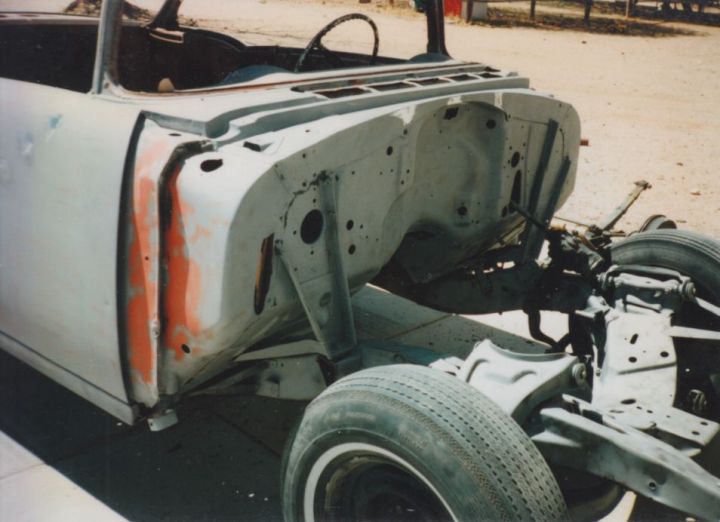 Finally I got to serious work on the car in spring 1996. I had been working on a friend's 39 Stude, he decided I wasn't getting it done fast enough, so he took it to another shop...which finished it a couple years later. Here I have sandblasted the body and front of the frame.
The car had the lower quarter and rocker replaced on the pass side, but they put the quarter in wrong. I left it alone, but did most of the rest of the rough bodywork the car needed.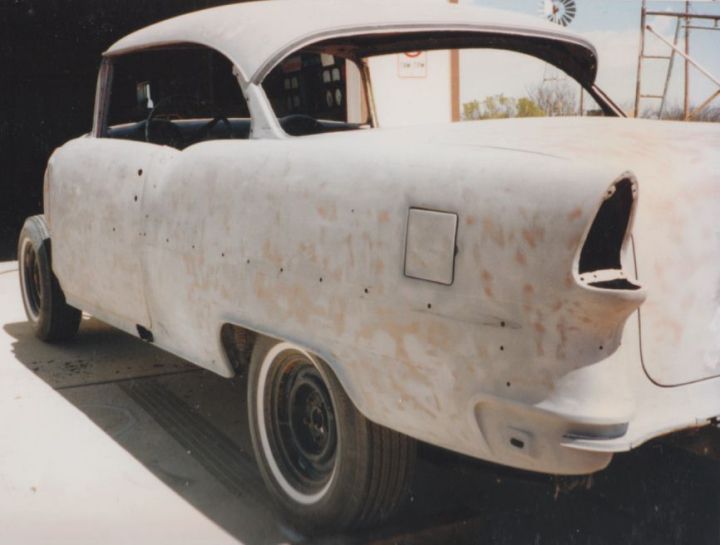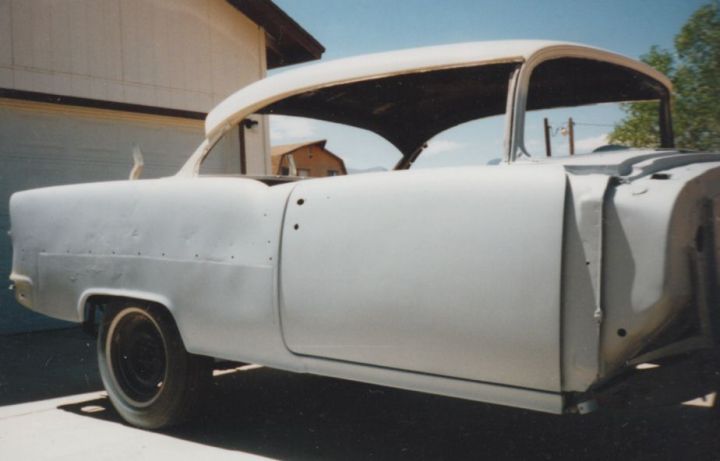 New primer! See how nice that patch looks? it got fixed a year later.
I was jamming on this thing...I spent about 3 or 4 weeks building it. No time to take pictures! but here it is with the body jambed, and the firewall and dash painted, and the motor sitting in it. In the background is my orange 59 truck, which previously had the blower motor. So not only did I build the 55, I also did an engine swap on the truck.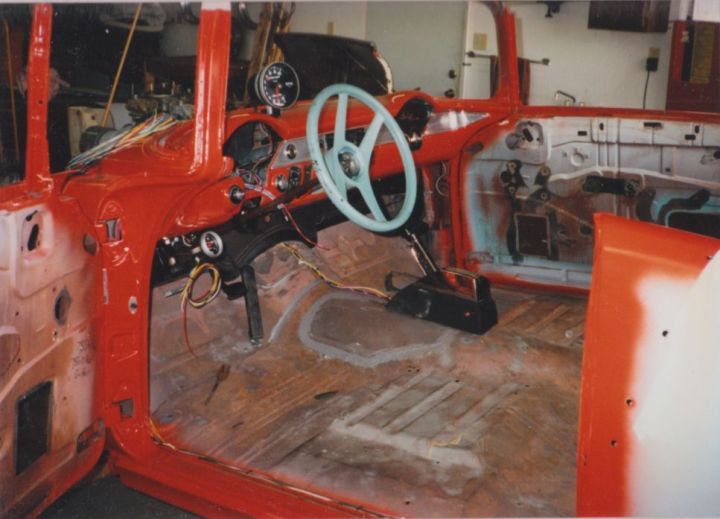 I lucked out and found a Summers Brothers rearend that a guy pulled out of his 57 that he was back-halving. Got the complete rear minus 3rd member but with brakes, a modified gas tank, and some other stuff for $800. I pieced together some funky Mopar springs, fabbed up some funky hangars for them, and put it together.
Minitubs are part of the wheelwells from a 58 Suburban I parted out.
Front end is on, it's almost time to go for a drive! who needs glass? or lights?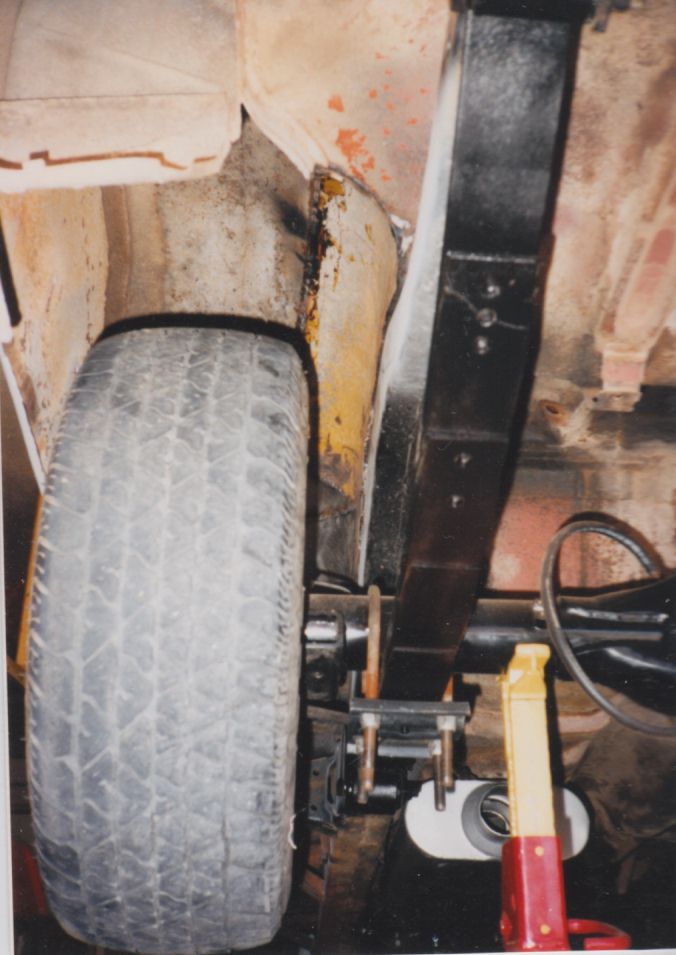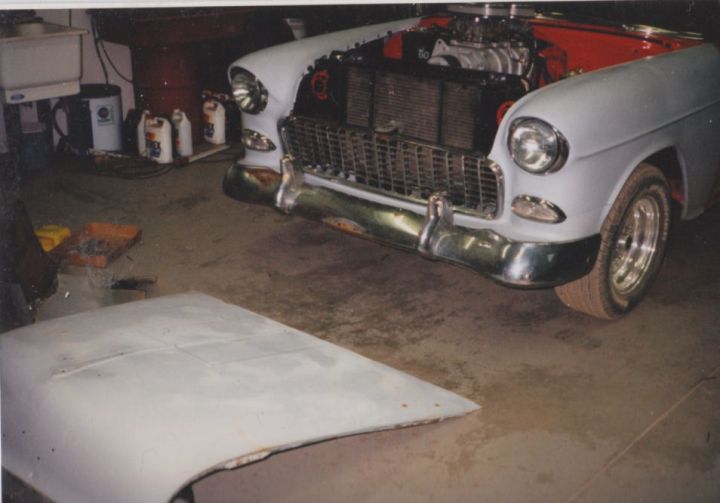 Since I was working on the hood, it must be driving now. I hauled it to the DMV for inspection (they used to require it), and the guy just about shit when I told him I wanted to register it. I honked the horn....he shook his head and filled out the paperwork and gave me tags.
A week after getting it running, I'm off to LA for the second Power Tour!
Parked by another 55 on the roof of the Petersen parking garage
Recognize any of these cars?
I had fun driving up to Las Vegas with the crowd, then headed for home.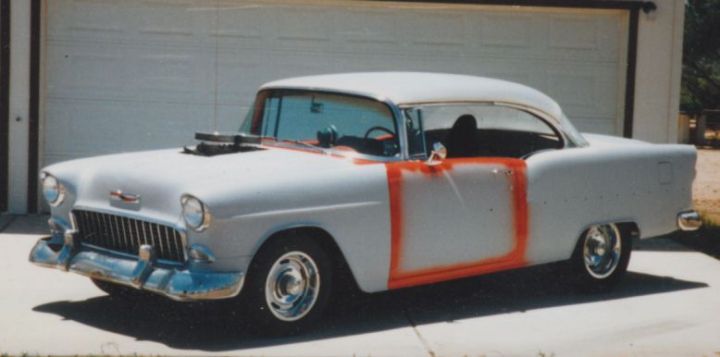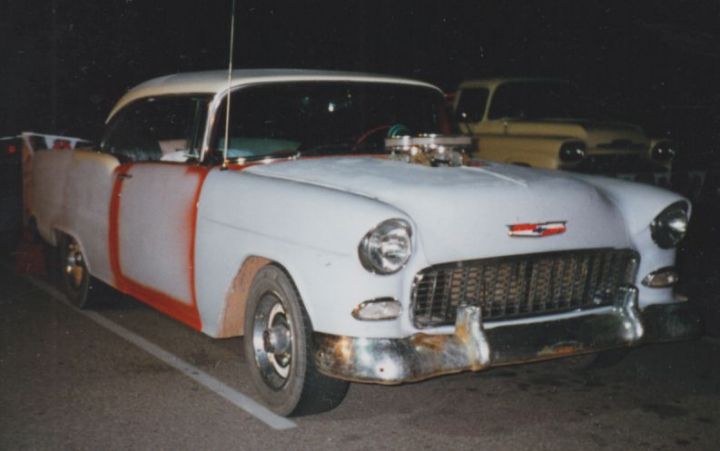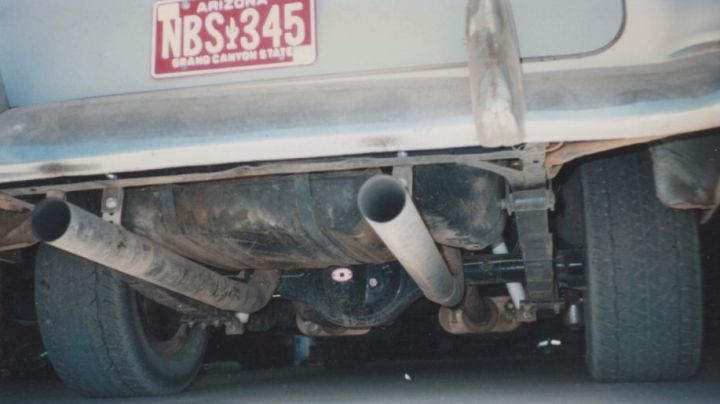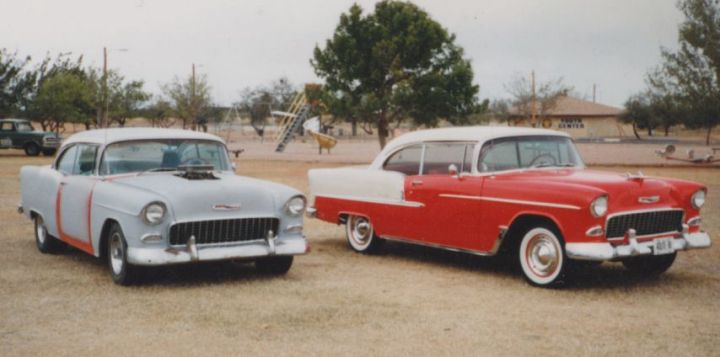 The guy who I got a lot of parts from was restoring a 55 at the same time I was building mine. This is from October 1996, at our local car show. He put less than a thousand miles on his car before he passed away a few years ago. Fortunately his widow sold his car to a mutual friend back east, who is taking good care of it.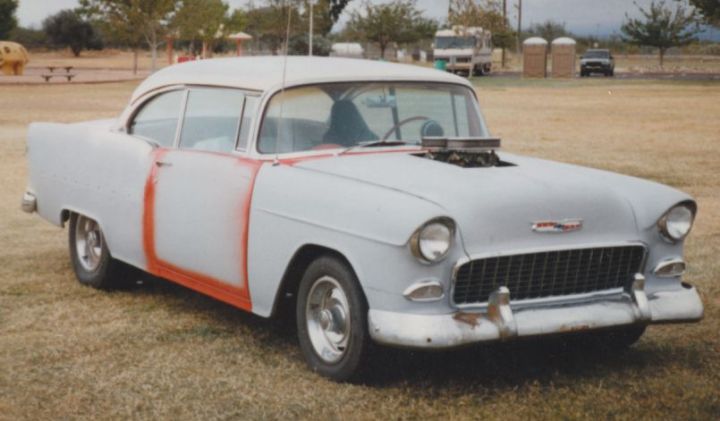 I'll have to dig thru some boxes of pictures to find the rest...I have a bunch from 1997 when I did the two tone primer.