Lemons Rally--Rocky Mountain Breakdown--3500 miles in an MG TD April 2022
I've been doing LeMons Rallys since they they started having them, in 2016. It's so fun to get a crappy old car, get it running just well enough, and take it on an adventure with a bunch of other crappy cars, and like minded people. Last December, I was thinking about what kind of car I should find for the Rocky Mountain Breakdown, and decided to look for an old British car. I happened to find a 1953 MG TD listed on craigslist in Albuquerque, and after talking with the owner, I decided to just drop everything, drive several hundred miles, and buy it.
I spent the next several months working on it. I ended up overhauling the engine to fix the worn out crankshaft, pistons, cam, and timing chain, and clutch. I replaced the tires and gas tank and windshield, and reassembled the interior with new floor boards. I left the rest of it mostly as is, even left the old water pump in it. The two changes I made were to install a modern alternator to replace the non-working Lucas generator, and new stronger rear axle shafts, so they wouldn't break. I got most of the car working properly, including a new home made top cover, and side windows.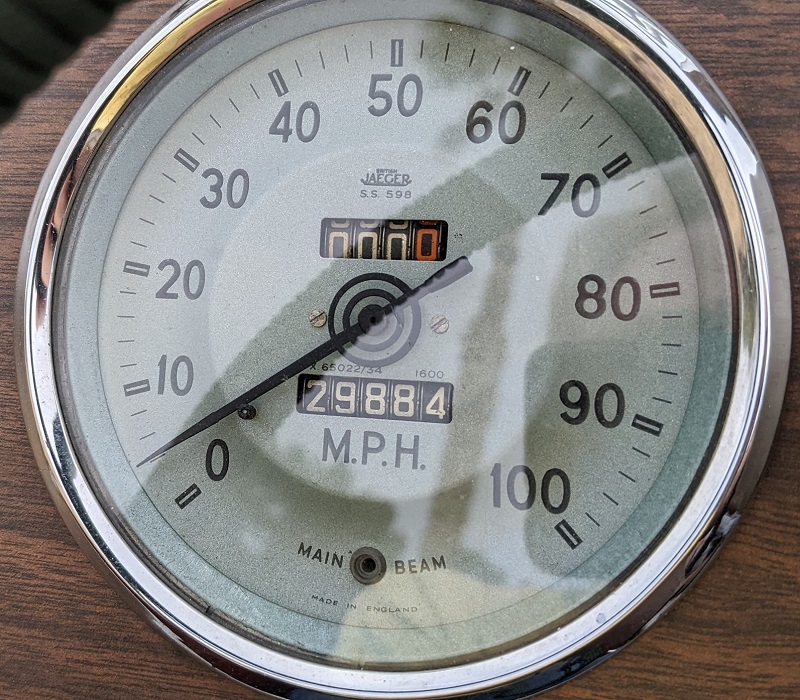 When the time came, I hit the road for Albuquerque. Along the way, I stopped to look at an old Mercury that I'd seen on the side of the freeway for years.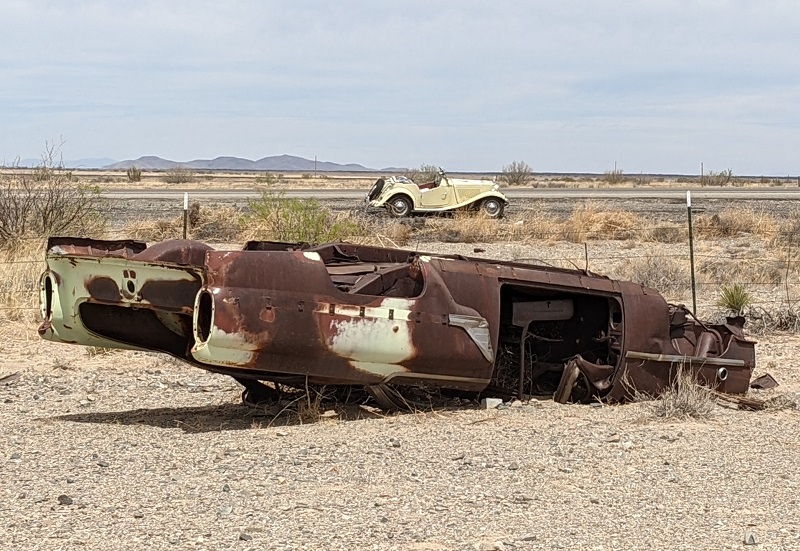 Driving the car is a bit different than modern cars. The engine is tiny, and the car is geared to make it spin very fast, over 4000 RPM at highway speeds. And it doesn't have a real gas gauge, just a little green light that comes on when the fuel is low. But it takes about 200 miles of driving to use that much gas, so it's not a problem, just plan ahead for gas stops every 150 miles. The temperature gauge reads in Centigrade, and on that warm morning I left, the engine was over 90 C, which probably means I should get the radiator cleaned out one of these days. It never boiled over, fortunately.
I planned to visit the lady who sold me the car, the next morning. It had been sitting in her late second husband's back yard for about 40 years, and somewhere else for another ten years before that. I figured she deserved to see it, and go for a ride, which she did. It was really fun letting her see the car actually working like a car, after all those years. I think she had been living with it in the yard for over twenty years.
After leaving Albuquerque, almost to Santa Fe, the car acted like it ran out of gas. The green light wasn't on, so I suspected the fuel pump. A little investigating showed that it woud kind of run for a little while if I tapped on it, but then it would stop again. I limped into a parts store, bought a new electric pump, and figured how to connect it, with the limited tools and supplies I had available. It worked! so off I went.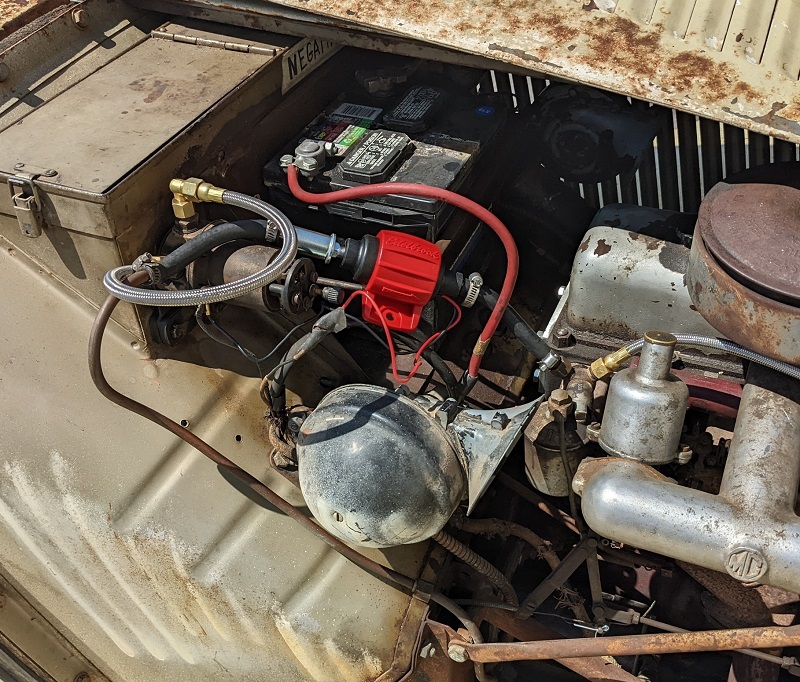 I saw that an old friend who used to live nearby was staying in a campground near Pueblo, so I stopped to see Pete and Cindy. They have an old Chevy RV that Pete fixed up, and is now putting to good use. They fed me a nice dinner, too.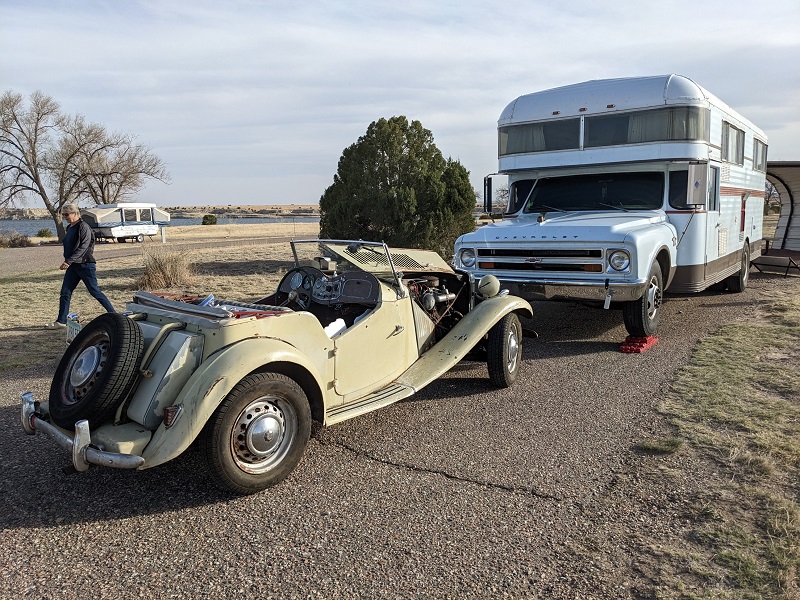 As we were looking over the car, I noticed a screw missing off a carburetor, and some other loose parts. I didn't have a weird British thread screw with me, so I made do with a cotter pin, and it lasted the whole trip.
I made it to the hotel in Castle Rock, and the next morning headed over to the Rambler Ranch, for the start of the Rally. There were some neat cars....a Bandit Trans Am, which a fellow won from the Coors company
a Fiat, the other real sports car on the Rally
a Japanese van, very small and with a tiny engine, but All Wheel Drive, and dressed up as a strange monster
an early El Camino
an Oldsmobile muscle car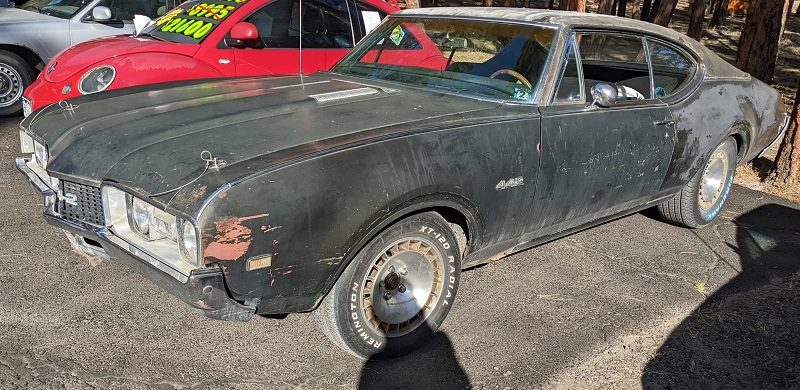 and a school bus housing several escaped convicts (wearing striped suits)
We all got the route instructions, and set off to find the checkpoints, and have some fun.
We got to find some interesting trains, including a high speed monorail prototype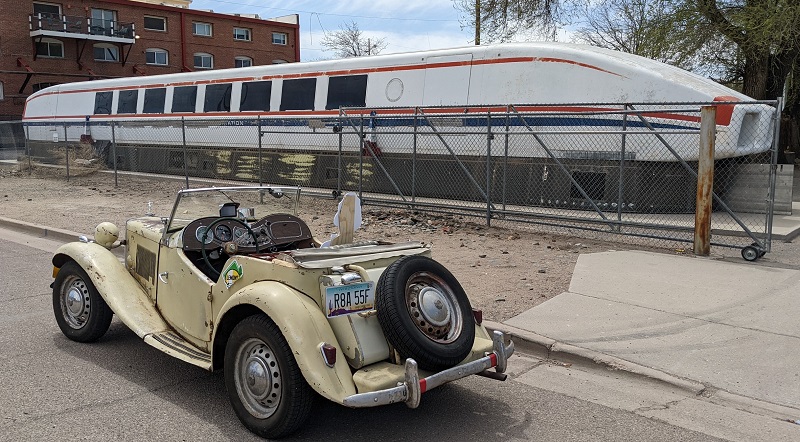 and several old steam engines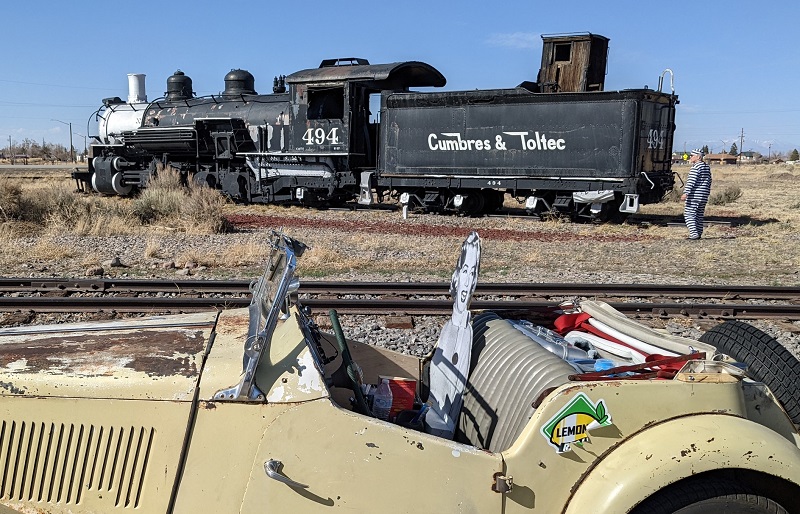 One of the fun things about the LeMons Rallys is that goofy themes are encouraged. I was all set, having watched the old movie Monkey Business. I had a cutout of Miss Laurel (Marilyn Monroe) from the movie, and I had my best Cary Grant attire on. Miss Laurel was smiling all through the rally.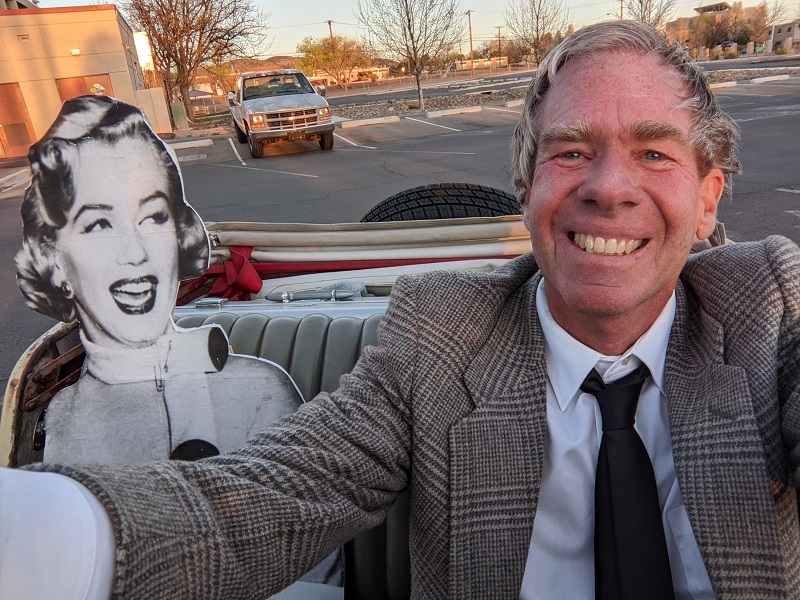 Another fun thing about the rally is the strange instructions, such as finding mysterious places, and doing weird things. First weird thing was to build a rocket. A quick visit to Walmart in Santa Fe got me some duct tape and a pump.
Next day we headed across New Mexico, to Flagstaff, AZ, the long way. When I left home, the weather forecast was for kind of cold in Flagstaff and Denver. But it kept getting colder, and I didn't have much to keep me warm. I managed to stop in Socorro, at a thrift store, and found a nice heavy lined Levi's jacket for $10. Best purchase I made on the whole trip!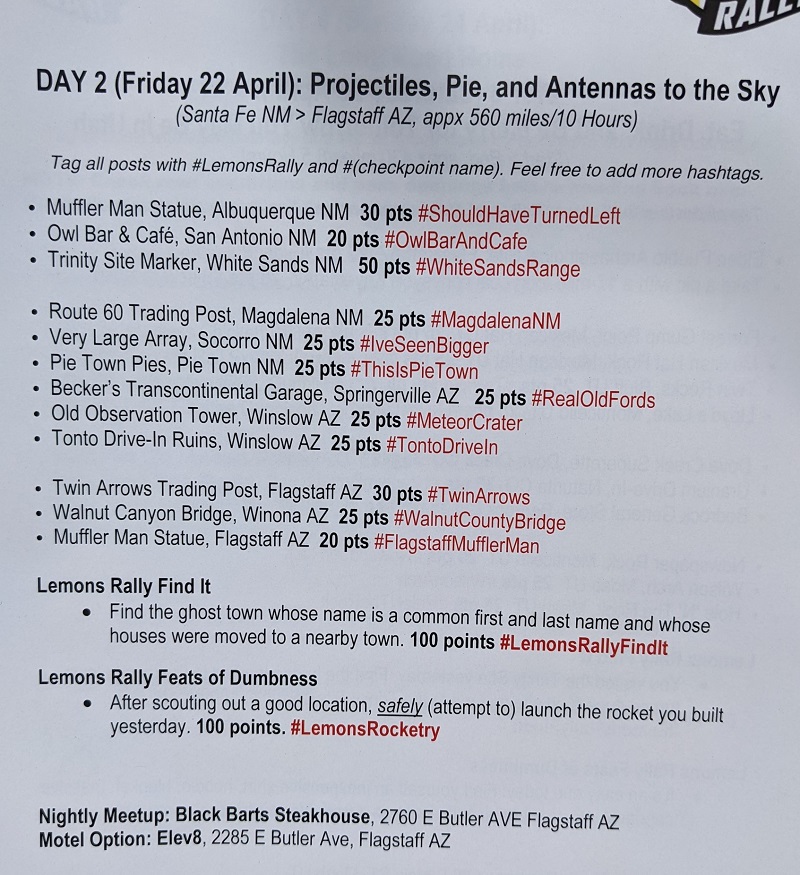 While at the mystery stop (Kelly Ghost Town), I launched my rocket...it flew several inches, but hey, it's a LeMons rocket, not a good rocket!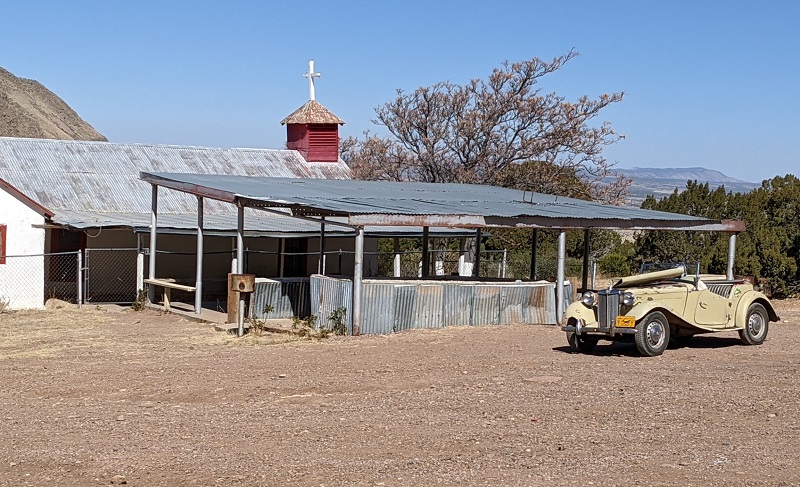 Near Pie Town I spotted a 61 Chevy. We had one a long long time ago, it was the first car I ever drove (at age 12), so I had to get a picture.
The wind picked up...to 40 or 50 miles per hour! mostly a cross wind, but occasionally driving straight into it.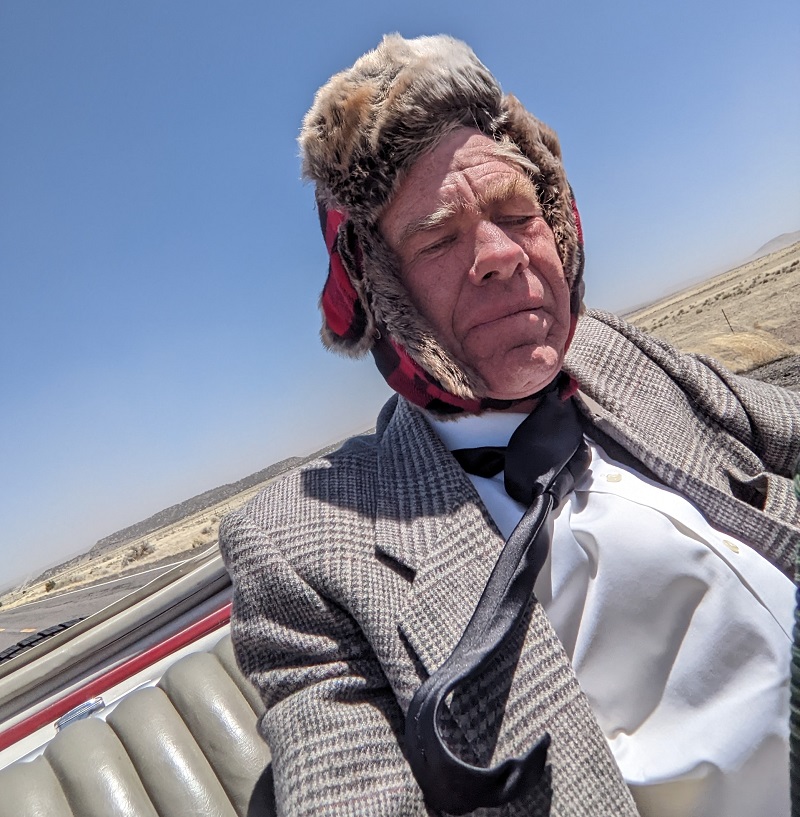 That night in Flagstaff, it snowed. The next morning was clear and cold, for the drive to Moab, UT.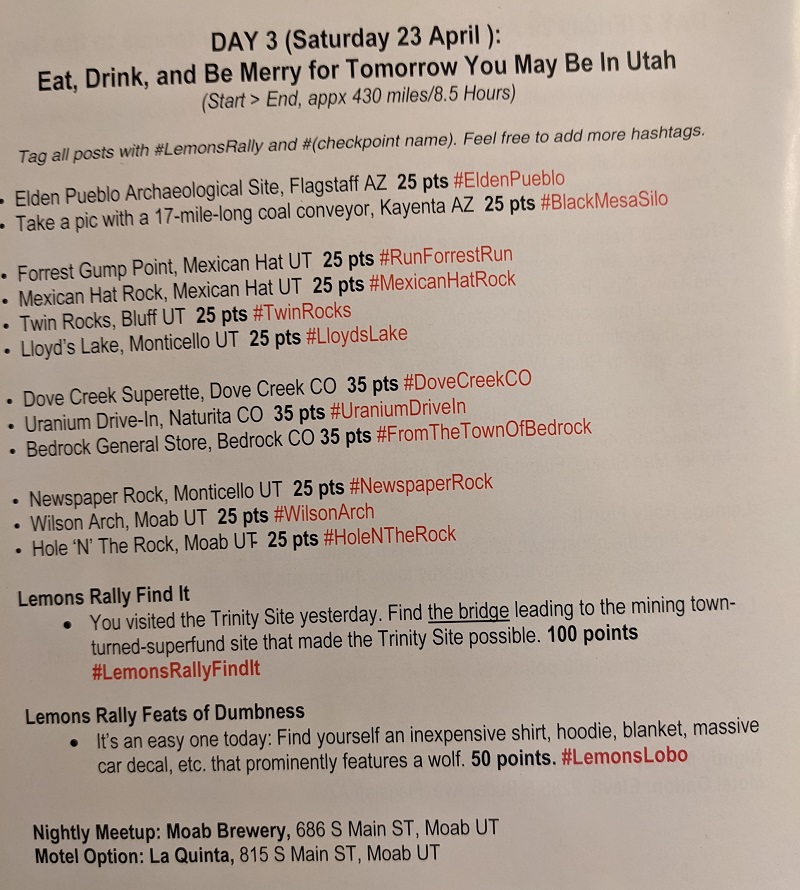 Somewhere before the Twin Rocks checkpoint, a wire came loose on the alternator. I crimped it tighter so it would stay on, and got a push start from a couple helpful tourists.
We got to detour through Colorado, where they used to mine uranium. And saw the bridge that led to the Uravan Superfund site. It was one of the mystery checkpoints, but seeing the radiation sign on a nearby fence made me think I was in the right place.
The last stop before Moab was the Hole N The Rock, which I didn't know where it was, till I drove past it. And turned around, to take a picture, in the dark.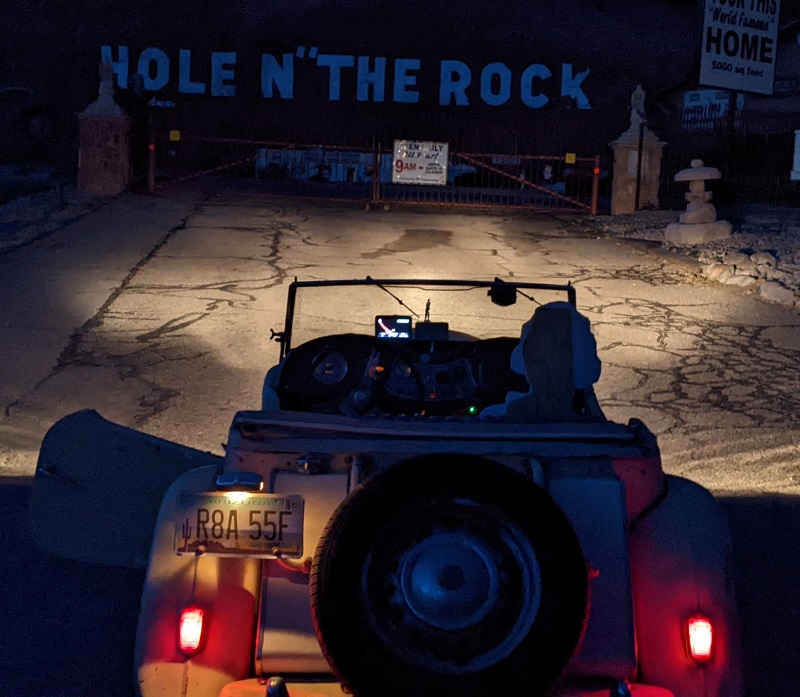 I was pretty cold and tired by then, so I did some planning for the next day, and hit the sack. The Adventure Inn still has metal door keys, nice place to stay.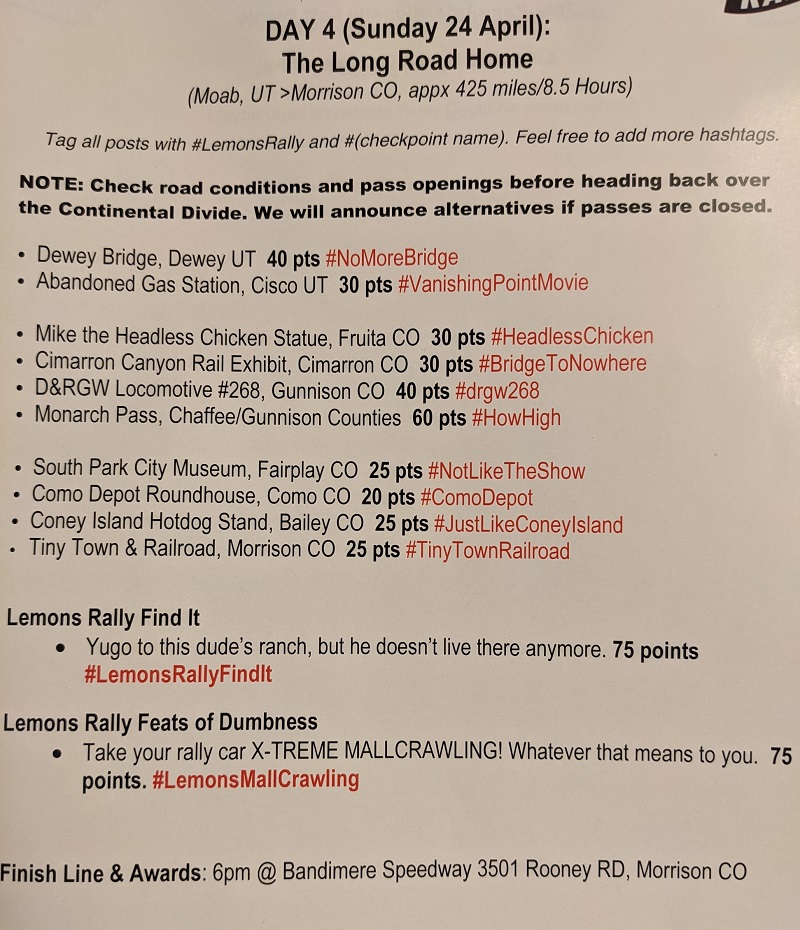 The weather in Colorado was looking rather bleak, as I 70 near Vail had been closed overnight because of snow. I talked with my wife (who was remotely navigating, from home) about it, and still couldn't decide which way to go. I had talked with a fellow MG owner who lives in Fruita, which was the third stop of the day, and went to visit him, so I could do a little maintenance work on the car. He has a lift, and was kind enough to help me out with some lubrication (the rear end leaks badly and was quite low on oil). He and a friend also spent a while telling me about the highway conditions taking either of the two possible routes. Following their advise, I decided to go on the smaller roads to the south.
The summit at Monarch Pass was cold and snowy. The bus was there when I arrived, and I got to warm up in it for a few minutes. I also bought a wolf hat, showing the 11,312 ft elevation. Little did I know the worst was yet to come!
The drive down was pretty, but very cold.
Then after reaching Fairplay, the snow started in earnest. The road was turning white, and I was having a lot of trouble seeing, since the wipers didn't seem to want to move snow at all, and no defroster or washers. I reached over the top of the windshield and used my gloved fingers to clear off a little area of snow. It was rather uncomfortable, and a bit nerve wracking, but I never felt like death was imminent, so I kept going.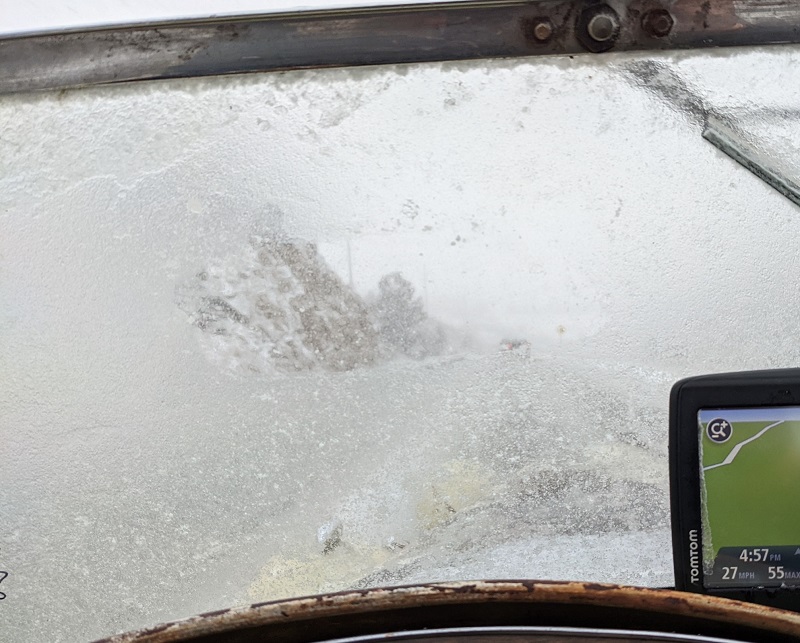 I finally made it to Bailey, and posted a picture on Instagram, just to let everyone know that I was through the worst part. I had been watching the time, to see if I might make the 6 PM finish meeting, and it was very close.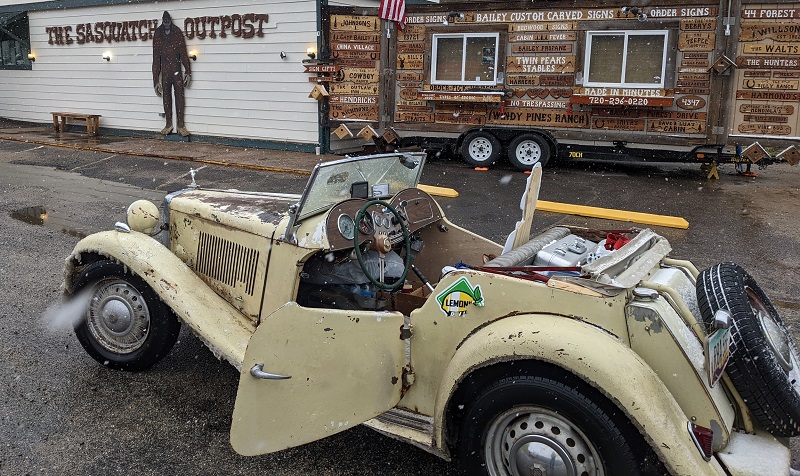 I drove pretty fast the last bit to Morrison. I was watching the ETA reading on the GPS, and it said I might make it a minute or two late. But I made up some time somehow, and pulled in at exactly 6:00. Yes, I got a few cheers. And yes, I got the most points, and won the Rally! The El Camino came in second, the Fiat in third. The Bus got the Random Acts of Stupidity award, and the pink van the Organizer's Choice. Well done!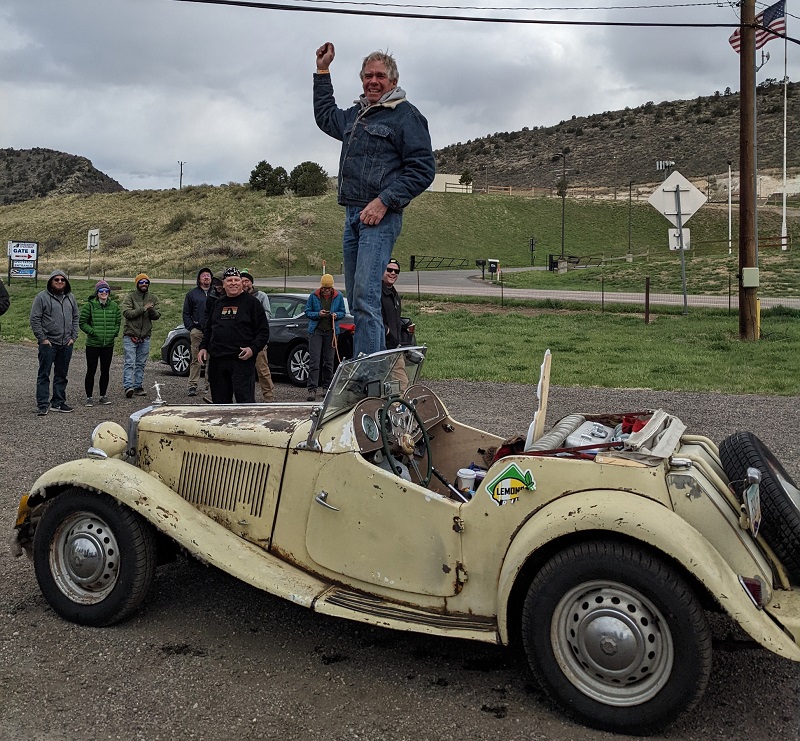 Of course we had to wait a little while for the bus to finally arrive.
I got a room at the closest hotel, and spent the night. Next morning I put up the top and installed three of the four side curtains (windows), leaving off the driver's door one, so it would be easier to see and get in and out of the car. At a gas stop in New Mexico, there was a display of old cars, and a Marilyn statue. I said Hi to Miss Laurel again. And continued on to Santa Fe, for the night.
I got up real early the next morning, and got through Albuquerque before the sun came up, and with it the commuter traffic. The rest of the drive home went pretty quickly. I took the small roads the last bit of New Mexico, and into Arizona
and past some familiar scenery in Douglas, and then home.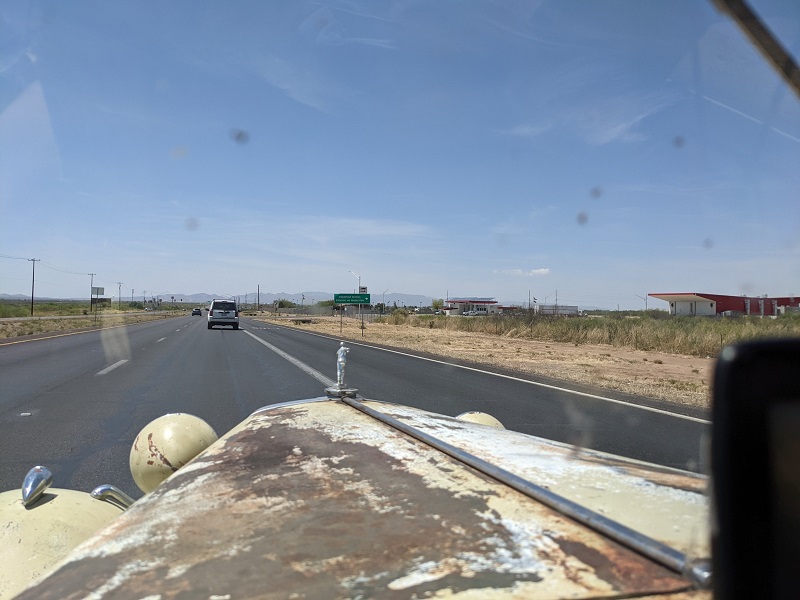 The odometer is off a bit, it's about eight percent fast, so it really was a 3500 mile trip, in a tiny 70 year old sports car. I don't recommend it. Unless you want to have an adventure...then, go for it!