Lemons Rally 2019 Monterey Hell on Wheels
April
I should be working on my Barracuda, but instead I bought a Hudson. 1951 Hornet, with the 308 straight Six, and places to put two carburetors. It was cheap, and almost complete, missing only the carburetors. Hauled it home, got the brakes working, cleaned out the fuel system, added an electric fuel pump, did some wiring work and converted it to 12 volts. Put some new tires on.
May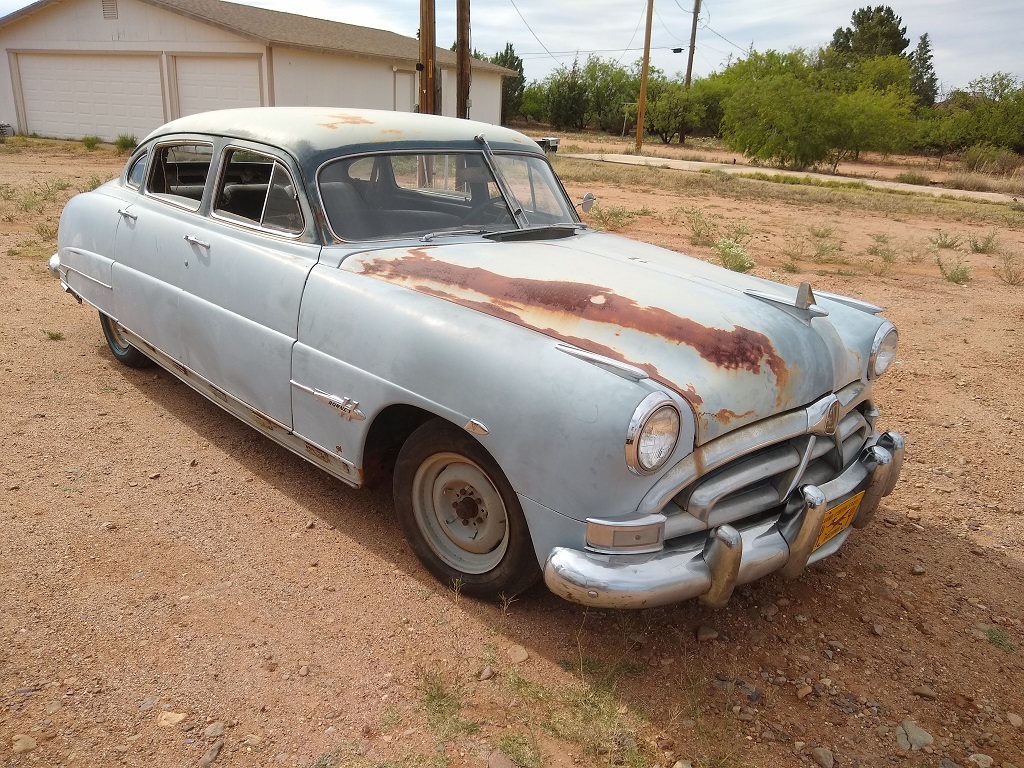 Ten days later, I was driving it! Then replaced the speedometer, more wiring work, new fuel pump, and put a bunch of miles on it. I realized it needed rings, it was burning oil like crazy.
July
It took over a month to get the parts to do the really bad ring job.
August
Then it was time for some more test driving...broke the exhaust manifold. Found one, replaced it, more driving, discovered I needed to put the electric pump back on.
Time to leave, have to go a couple days early, so I can stop by Bonneville for Speed Week and see some old friends.
Friday August 9
Drive north, destination Las Vegas. It's nice and cool in the morning, but warms up when I get to Phoenix, and it's almost hot in Kingman. Where I notice the fuel line is leaking, so I find a parts store and buy some metal line and bend it into a loop to replace the leaking line. Then the hood decides that it wants to pop open, fortunately the safety catch works, so it only opens an inch. I close it, drive some more, it opens again. Time for some baling wiree. That worked. On to Vegas, where it's hot. I get there at the beginning of rush hour, but it's not too bad, I make it to Ted's house. No one is home, but they let me stay there anyways.
Saturday August 10
Destination Bonneville, or at least Wendover. It's warm out, but not too bad as the elevation increases. But the AMP light decides to come on. The alternator I installed when I got the car running was old and crusty, and I decided to bring a new one along in case I needed it. I needed it...only took about half an hour to install at a rest stop on the lonely highway. A hundred miles later, the fuel pumps seemed to be acting up, and I smelled gas. The lever pivot pin had backed out of the mechanical pump, so I took the pump off and pushed it back in and peened it, so it would stay where it belongs.
On towards Wendover, no more car problems. I got to the Nugget parking lot, where the Speed Week car show happens, before 4, parked the Hudson, and sat around till it was late. I got a room, they had plenty because of the late rain that was delaying the start of racing. I saw a few folks I knew, and generally had fun.
Sunday August 11
I wanted to go to the salt and see the cars and have fun out there, but decided I probably ought to skip it, as I still had a ways to go to get to the Rally. Time to head west. First go back down to Ely, then on the little roads over the mountains. It's nice and desolate out there, but I did encounter a hot rod when I stopped at a rest area to relax for a few minutes. More driving, I finally got to the mountains, on highway 108, which goes over the Sonora Pass, at 9624 ft elevation. Driving up the mountain was hard work for the Hudson, but not nearly as exciting as going down. I made the mistake of "unlocking" the overdrive lockout, then got to some steeper hills, and almost didn't stop. After that, I kept the transmission firmly in a low gear, and kept my speed to about 20 mph on the steeper sections.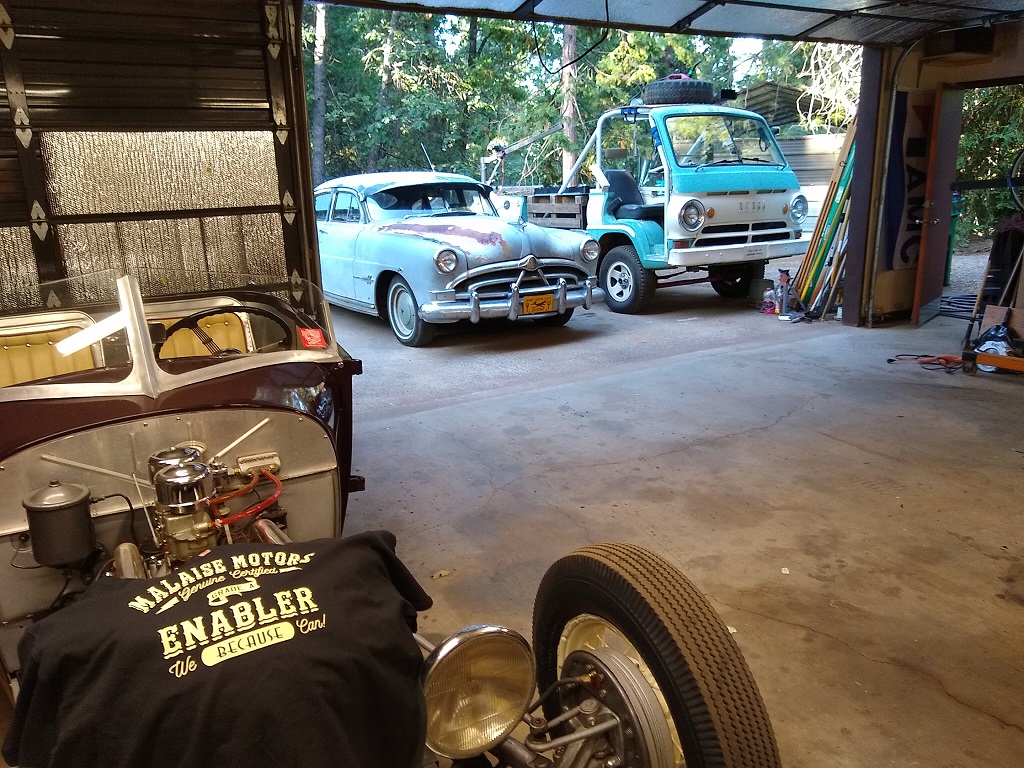 Down the mountain, and finally to Chuck's house. Chuck is a friend of Pete Fullerton, and invited me to stay the night, as he was also going to be on the Rally. He has a beautiful place on the edge of the forest, and a few interesting old cars, as well. Chuck let me put my car in his garage and do a little maintenance.
Monday August 12
A short drive today, although I took a detour through warm San Jose to see a guy about some old Hudson parts. I picked up a 4.11 rear gear set, and a couple camshafts. The Hudson has 4.56 rear gears, which means it can't really go too fast on the highway. I can cruise comfortably at 65, but it would be nice to go 70 or so wtihout the engine spinning so fast. The gears will help. Of course I didn't have the tools with me to change them, so that will wait until I get back, or the rearend breaks. He was almost done cleaning out a shop where an old guy had worked for decades, then passed away. So much neat stuff to look at, so little use for most of it, unfortunately.
I made it to the motel in Seaside, where the rally starts, in the early afternoon. One other Rally car was there, the Frankenbird. They had just finished repainting the car, with house paint and brushes, so it looked pretty nice. I jacked up the Hudson, did an oil change, checked a few other things, and decided it was good to go. I goofed off the rest of the day, it was the last time I'd have to goof off for a while.
Tuesday August 13
Foggy and wet and cold in Seaside, which is normal in August. I drove to the park, there were several other Rally cars there, and the registration table was set up. I checked in, got my car "inspected", and talked with some of the other idiots (participants). At this time they assign starting points for all the teams, based on things like the age and origin of the car, it's brand and condition, and how hopeless the drivers appear to be. I think I endd up with the highest initial score, I guess they didn't have much confidence in the old flathead engine, which was the only one there from the 1950s. There were a few other cars from the 50s, but they all had newer engines installed.
Chuck was there with Mike his co pilot, but they left before I got to talk with them. The Yugo arrived, and I went over and talked with Matt a bit. I had met him last year on the Route 66 rally, so I had some idea of just how bad the car was. He said they had fixed a lot of things, but still had serious fuel, exhaust, and starting issues. I told him I was driving solo and needed help navigating, and would be happy to follow them, and help out as much as I could. He agreed that would be a good idea. Last year he drove alone, but this year had his friend Jonathon with him.
We looked at the route, and hit the road to the first check point. We didn't have too much trouble with the first few, and stopped for lunch. I took the spark plugs out of the Hudson to see if I could figure out why it was running a bit rough, but they all looked ok, so I decided it probably just wasn't used to being at sea level. I did adjust the idle speed so it wouldn't want to die when I came to a stop, and it worked OK after that. We went up to San Francisco, and then the fun started, with the crappy cars in big city traffic, trying to go up steep hills, getting lost because we didn't really take time to read the map, etc.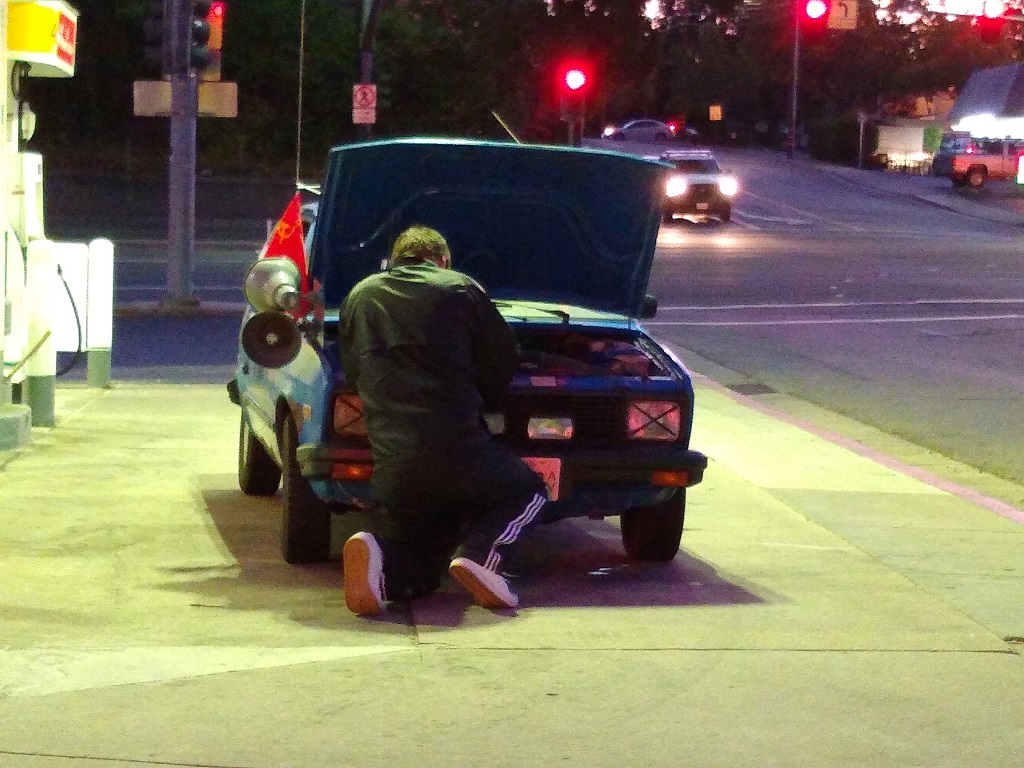 When we stopped for dinner, the Yugo wouldn't start, so we pushed it around the parking lot till it fired up. Then off to the Donner Pass, where we should have stopped to take check point pictures but didn't realize it. On to Reno, got a room at the Circus Circus after midnight. The start of a week long trend.
We didn't get all the check points done until it was getting well into rush our, then we got locked in traffic for a while, it took well over an hour just to get to the Bay bridge, and another hour or so to get out of the heavy traffic going east. But it was fun going down Lombard street in the Hudson, with all the tourists taking video and wondering just how crazy those Americans really are. There was a stop in Nevada City, which we found without too much trouble, but got lost trying to get out of town. An officer stopped me for missing a stop sign, but I told her what I was doing, how lost we were, how the GPS said to go the wrong way down one way streets, etc. She admitted that they had just changed several streets to one way, and let me off with a warning. On the road again.
Wednesday August 14:
Started the early morning off by adding fluids to the cars, and getting gas. Then we started on the checklist of 12 mountain passes or summits that we had to drive to, taking a picture at each sign. They weren't really far apart, but each one required going up the highway, take a picture, then back down to the previous highway, along it for a while to the next hill, etc. The elevation of the passes were 7000 to over 9000 feet. The little Yugo struggled the whole time. Early in the day they took the hood off, hoping to help it keep cool. The hood fit in the back of the car, but a corner hung out the hatchback. The main problem was the fuel tank overheating and pushign fuel out the vent line and filler cap, and being so hot that the pump only was getting vapor, not pumping liquid. It was pretty common to stop two or three times per pass to let it cool off.
By the time we got to Monitor pass, the little car just didn't want to go the last couple miles, so Matt got a ride with me to the checkpoint, and took a picture of their mascot at the sign. After that, we decided no more passes, because the next one had 24 percent grades, and the little car just would not make that. We headed toward the hotel in Fresno. I had already taken a picture of my car at Sonora pass, so I got credit for that one (yes, I approved it with the scoring team ahead of time).
When we stopped for dinner, the starter died again, so I push started the Yugo with the Hudson. I didn't have any reservations at any hotels on the trip, and the Fresno hotel was full, so I slept on the floor of Matt and Jonathon's room. We got videos and pictures of some of these antics, and posted them on Instagram. The scoring was all done on Instagram, so the more crazy stuff we put up, the more points we got. I had been tied for first place the first day, then dropped to second on the second day. I knew we needed to get more points since we were not making all the check points. Other folks driving better cars could get more points because they had more time each day, they weren't waiting for cars to cool off, etc.
Thursday August 15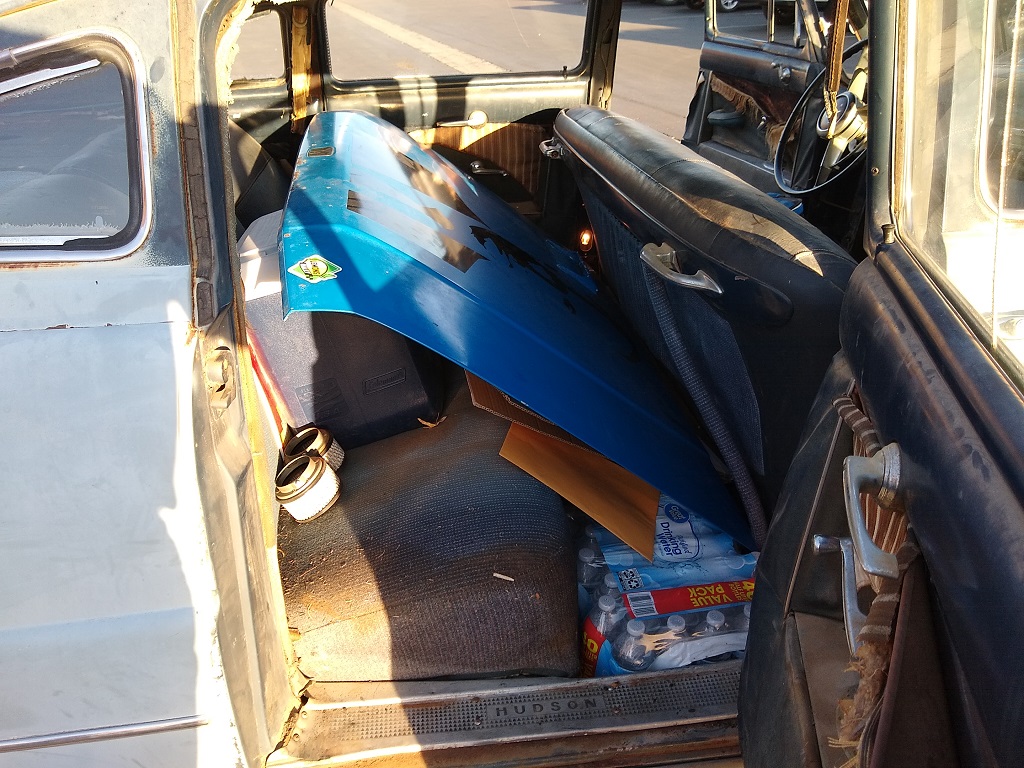 The guys decided they had to do something about the Yugo. We found a parts store in the morning, and they got some tailpipe parts and built a tailpipe to keep exhaust off the fuel tank and pump. That was a big help. We hit a few local check points, then found a Home Depot, and they rigged up a weed spray to shoot water into the grill in front of the radiator, to cool the engine. The car would overheat if it had to go up hill at 20 mph, but it was usually OK at 40, but dind't usualy have enough power to actually go that fast up hill. A few times, one of them would ride in the Hudson up the hills. This day, the hood from the Yugo was in the hudson back seat, so it was out of their way.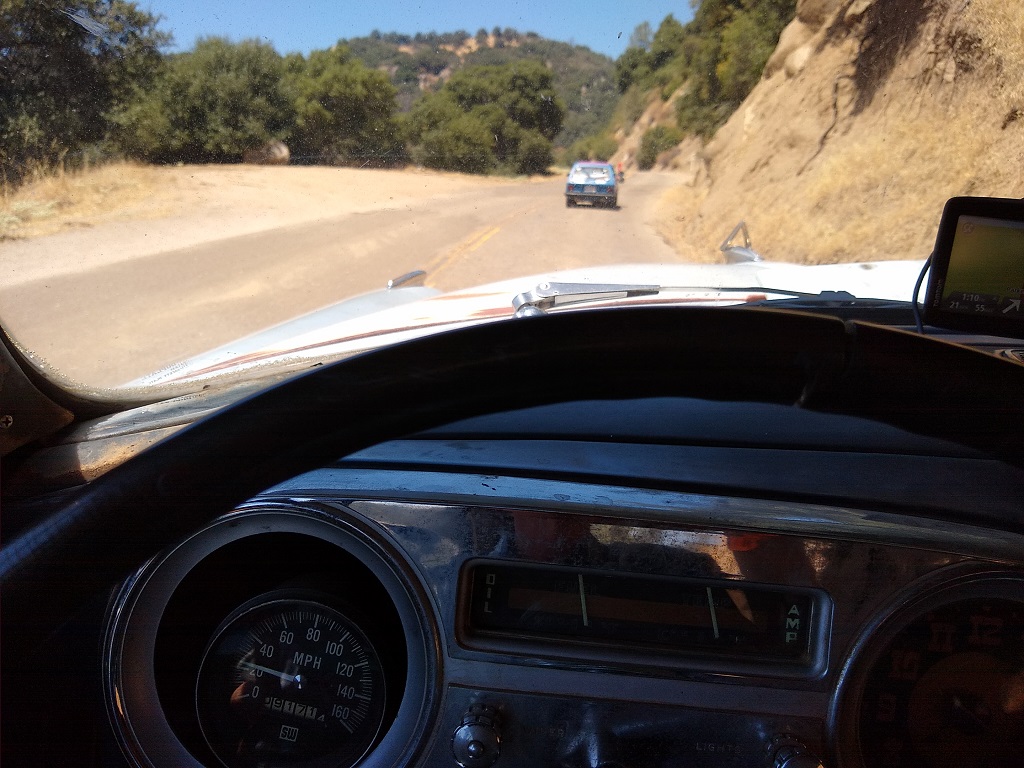 The new additions to the car made it work just fine. We got about half way up Sherman pass, and the Hudson fuel pump quit. I banged on it, and it started up again. Then the temp gauge got too hot, so I stopped to let it cool, poured some water on the radiator, it helped. Made it all the way to the 9200 ft pass, then headed down at 20 mph to not outrun the brakes. We got a few more check points, one more low pass, and headed to San Luis Obispo.
Friday August 16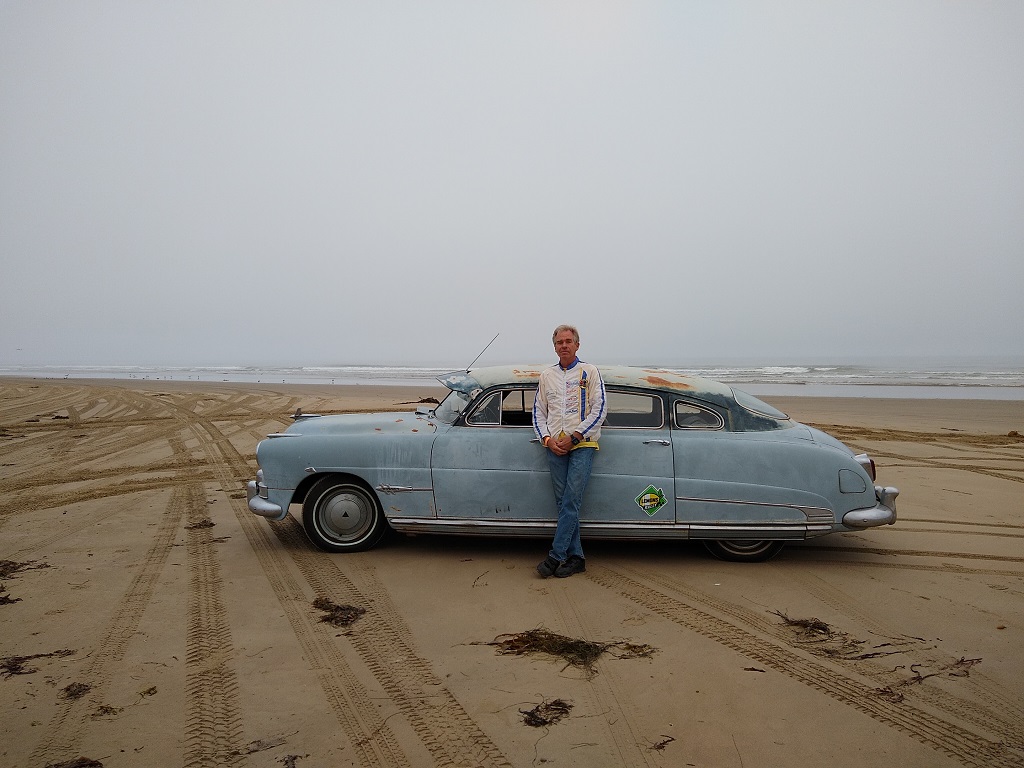 The points were working out good, by the end of the third day I was in first again, and the Yugo in fourth. Our goal was just to finish the rally. The Yugo is a real piece of garbage, especially twenty five years after you could last get parts for it. The Hudson is also hard to get parts for, but it's a better car. Unfortunately it also was making some interesting noises from the engine, so I really had no idea how long it would last. The last full day of the rally started at Pismo Beach, we had to find a Pismo Beach LIfeguard shirt, and then take a picture of the car on the sand.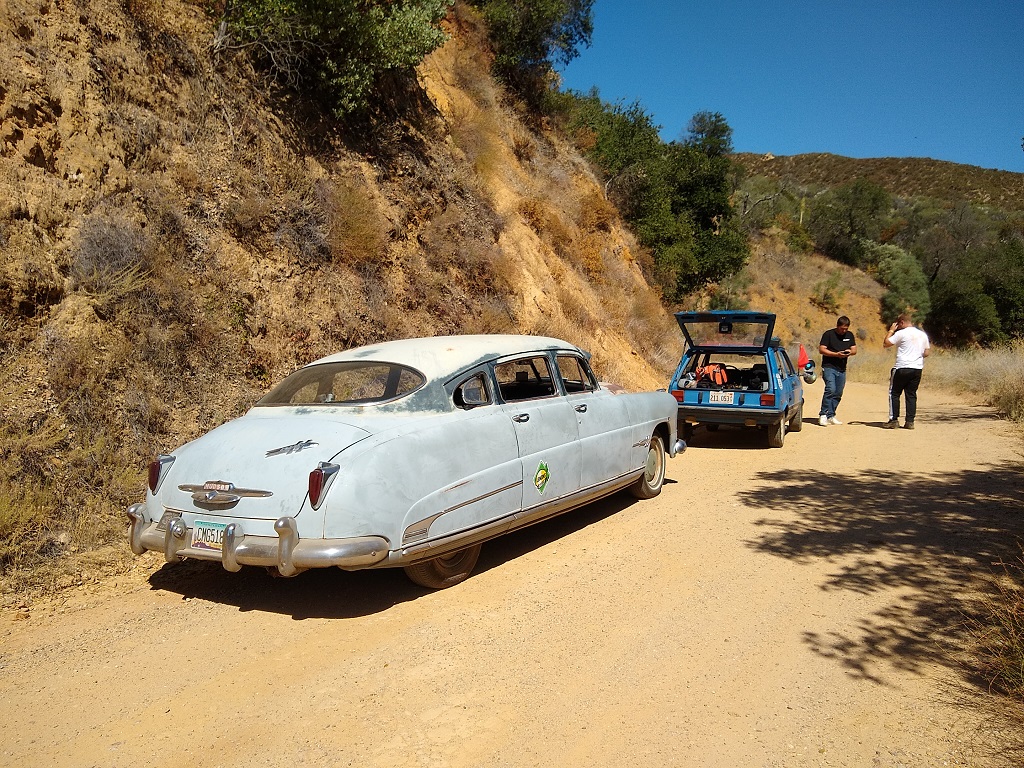 Then we headed yet again into the mountains, this time ending up on a long dirt road that we should not have been on, and then wandering around the oil fields looking for the Chinaman's grave. After a few more check points we had to head up to Carmel Valley, but I got separated and lost, and we ended up running out of time to get two of the check points. So we headed up to Santa Cruz boardwalk, where the last points were. This invovled getting some pictures of me in that Lifeguard shirt, and also meeting up with all the other fools who finished the Rally.
I had talked earlier with Chuck about rooms, he had a reservation at a Yurt in Soquel. I called him and met up around 10:30, and we headed up 6 miles to the place. It was pretty wild, a little hippie commune in the forest, with several beds in a big tent. Outside bathroom, with an outside shower.
Saturday August 17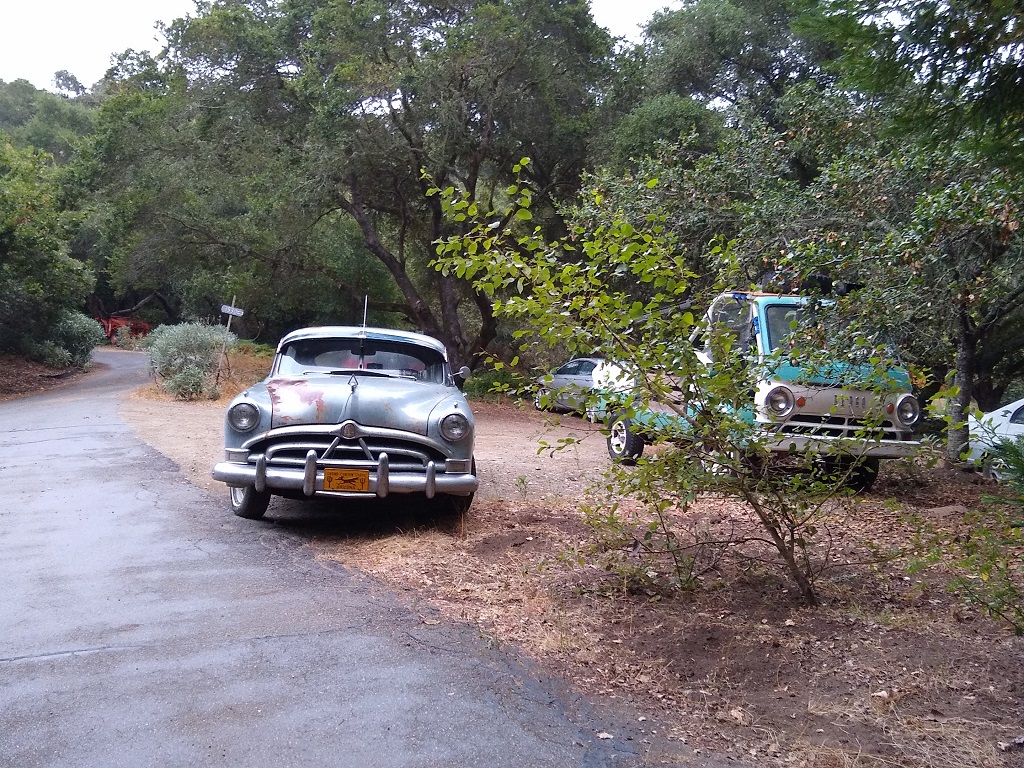 I got a pretty good night sleep, then wandered around in the fog in the morning, got my stuff done, and headed out to Seaside. The Rally takes place during Car Week in Monterey, so there are all kinds of exotics driving around, as well as a clapped out Hudson, and some other miscreants. The last drive was uneventful, and I ended up at the Rally lot across the street from the Concours d'LeMons show.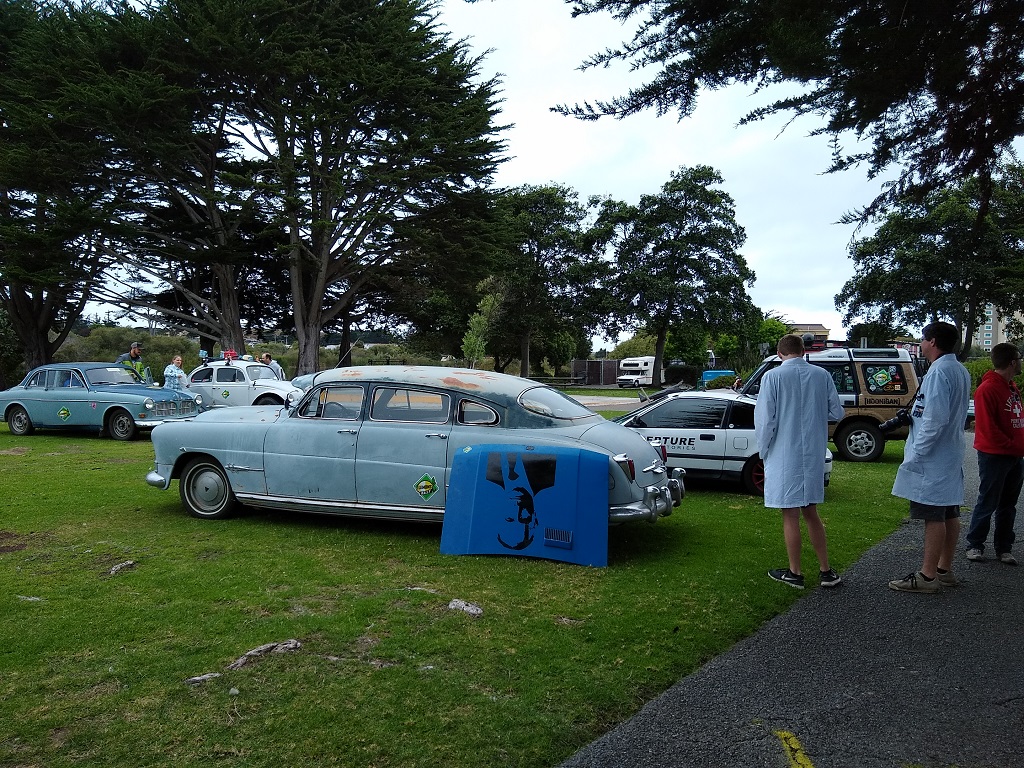 After all the other cars showed up, we had the awards. I got first place! The Yugo got second. Chuck got an award, as well.
I hung around for a while, then took off for home. On the way, I decided to call Ted and see if he was home, he was, so I headed up to Vegas again.
Sunday August 18
I got to sleep in, and relax in the morning, and visit with Ted's family. Then we went to his brother's for breakfast, and back to his house. I needed to add some fluids to the Hudson, so I got Ted's son to help, he had never used an old oil spout in an actual oil can before (the car came with a few cans, I saved them for this trip). And then I made him drive Doc Hudson around the block. not many young guys who watched the movie get to do that. On to Chandler, it was hot out again. A couple stops on the way to cool me off. When I got to the phoenix area and stopped for gas, the clutch felt funny, but I made it by dinner time to my son's house in Chandler.
Monday August 19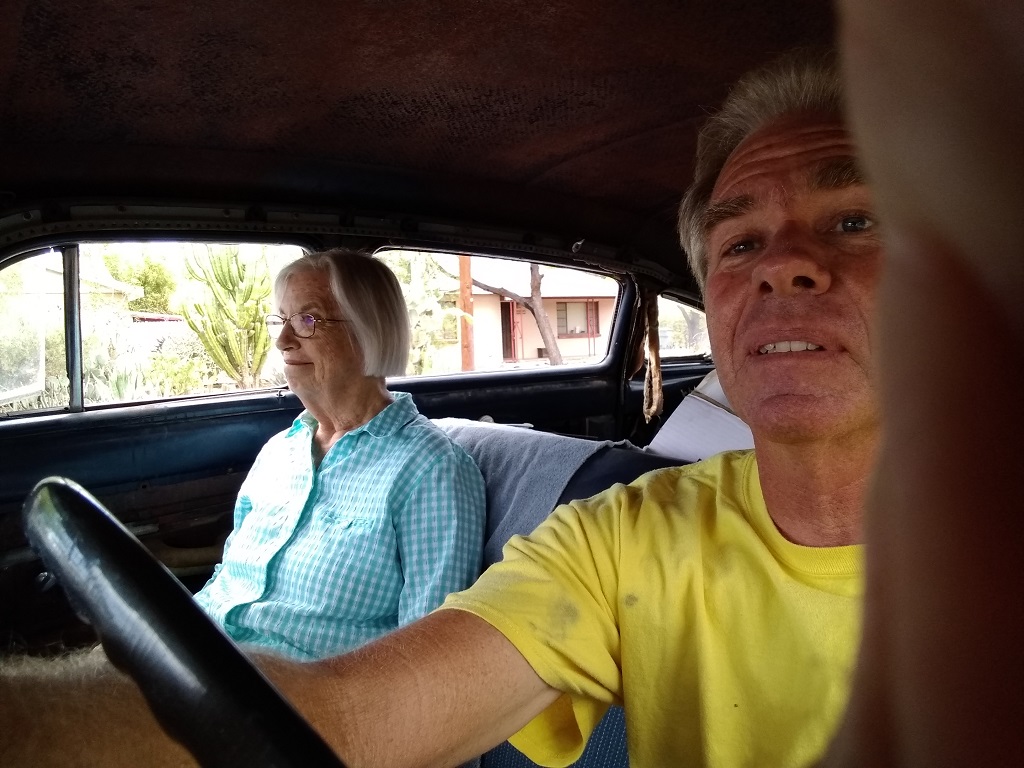 I adjusted the clutch in the morning, not much adjustment left, I think it's worn out. It's a cork clutch, with oil in it, so it's been a constant thing of adding oil to it since it leaks. I went to Maricopa where an old Hudson guy lives, bought some parts from him, and spent time learning about how various things work--he had a Hornet clutch there on his work bench, so I spent time examining it. Very strange stuff. I made one last stop at my Mom's house in Tucson and took her out to lunch in the old car, then home to Sierra Vista. Almost 4500 miles in an old car in ten days, what a ride!.