Jim's Drag Week 2021
I've been racing on Hot Rod Magazine's Drag Week for ten years. I started with my 55 Chevy, then in 2013 I decided I needed to build a car just for the event, and Plan II was born. It's a 1962 Chevy II, set up to run the A/Gas-AFX class. It has a blown 427, and an altered wheelbase. It usually runs low 10 second ET, at 130 or so MPH.
With all that's been going on recently, Drag Week was cancelled last year, but this year's event was announced last spring. The registration this year was based on the cancelled 2020 registration, which I did not get into. They accept 400 entries, then allow anyone else to sign up for a wait list. I was on the wait list, but pretty far down, as far as I could tell. Without having a sure place, it's a gamble to just show up and hope to enter, because there's no way to know how many no-shows there will be, nor how many wait list folks will show up hoping to get in. Because of this uncertainty, and a few other things going on, I decided that I'd just drive the car up to the start in Michigan by myself, and hope to get in. If not, then at least I'd have got a fun trip up there and back.
I set out on a Thursday morning, to get to the track before registration on Sunday. I decided to head up north, instead of going across the panhandle, both to avoid the heat, and to take a different route and see some scenery I hadn't seen recently. I made it past Denver the first day, and got a room.
Friday, I got in touch with a friend who lives near Chicago, and bummed a room for the night at his place. Matt has participated on a few LeMons Rallys, and we travelled together on two of them. He still has his Yugo, that was so fun to run with when I had the Hudson two years ago. The brakes on my Chevy had been feeling funny on the last part of this drive, so in the morning we went to an auto parts store, and I got a new master cylinder. That fixed it.
Saturday, I drove the rest of the way to Kalamazoo, which is just south of the US 131 drag strip in Martin, MI. At the hotel, I met up with several old friends. The prison bus had several guys who didn't have their cars ready to race, but wanted to attend for the fun of it. I went out to dinner with them, in the bus.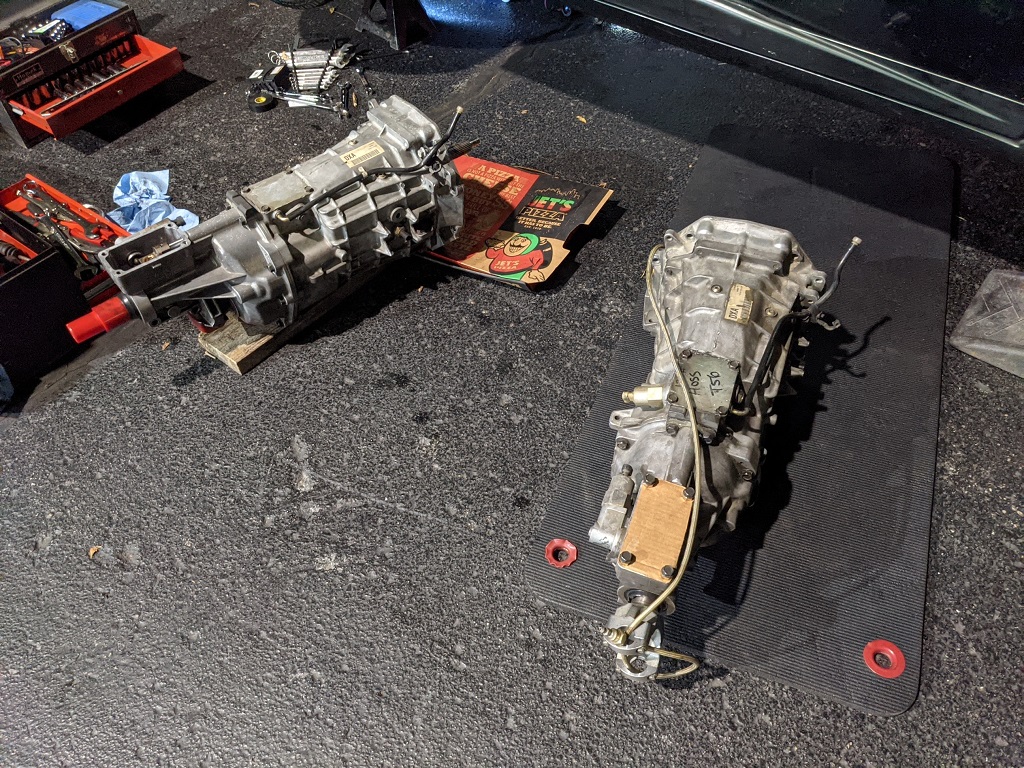 Another fellow at the hotel with a Firebird was having transmission troubles. He had a spare transmission with him, so several of us helped him replace it, in the parking lot. I quit around midnight, when the new one was finally sitting in the car, and they kept working till 3 AM until it was all together and driving.
Sunday was registration day. I spent most of the day waiting in line. There is the main line where the registered cars go, and a smaller line off to the side where the wait list cars go. We have to wait until all the other cars are signed up, so the know how many waiters can get in. In the mean time, I walked around and talked to folks and looked at cars. Dave Schroeder was here with his new Unlimited Corvette, which had not been down a drag strip yet. His previous car had been in the sixes, so this was a car to watch to win the event, if they could get it to work.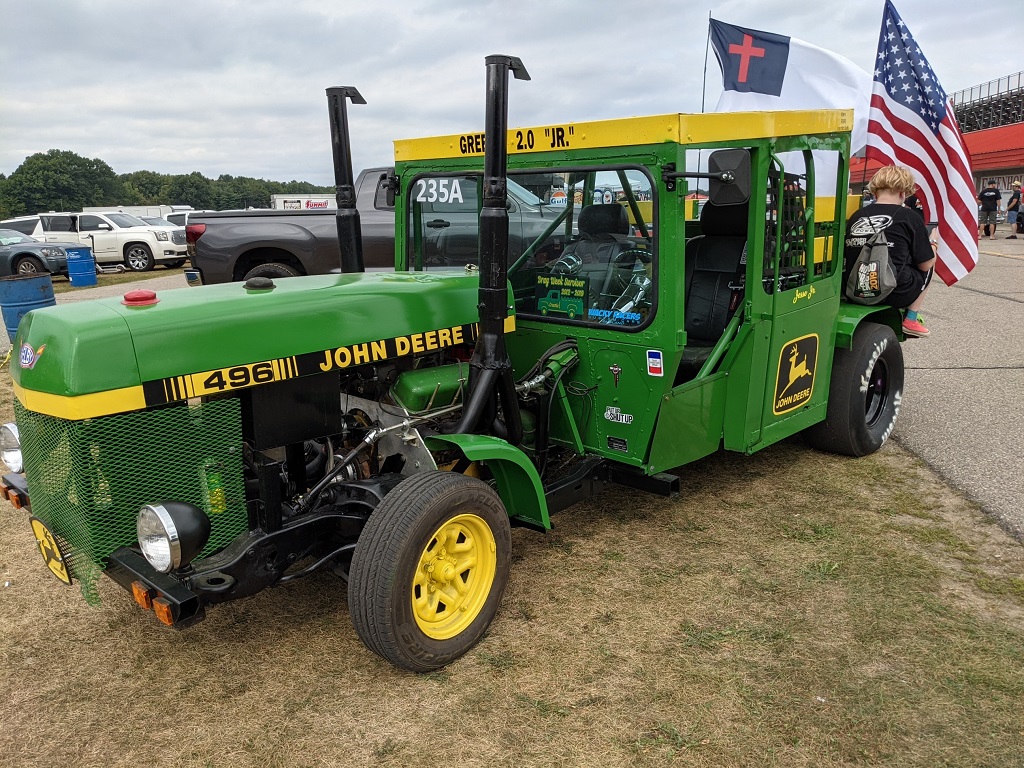 Another new car is Jesse's tractor. He'd been racing a pickup for many years, and always helped out other racers in need. We all chipped in two years ago, and gave him a bunch of money, parts, and help to get his new ride together.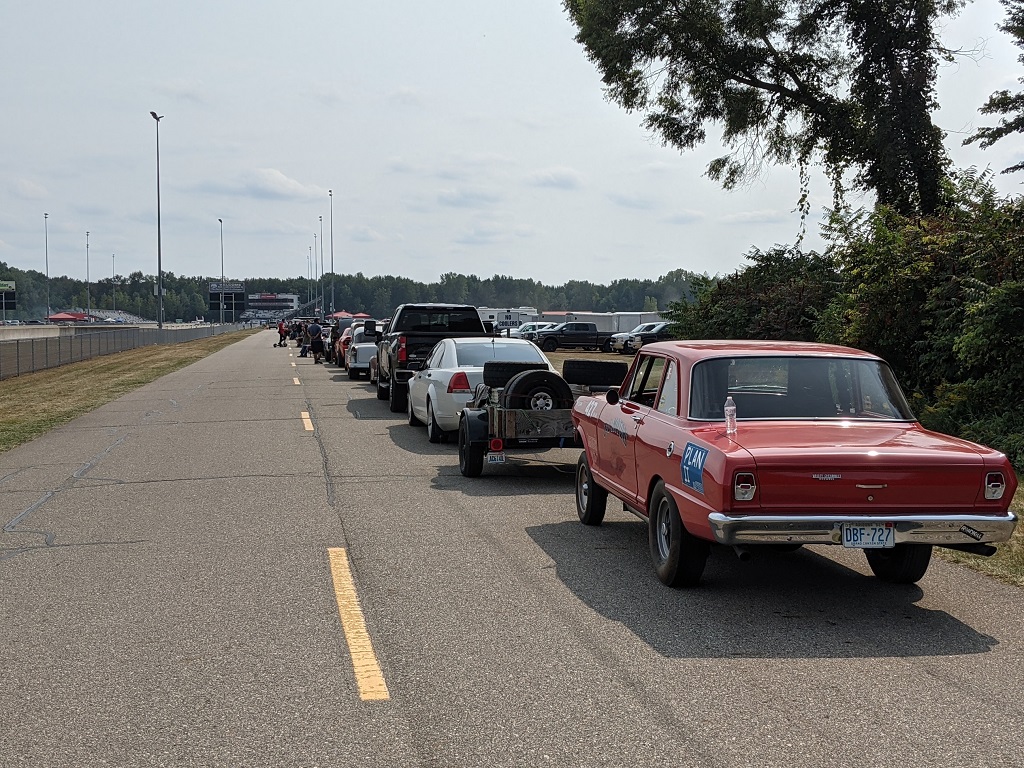 After many hours, the staff decided that there were enough empty spots that all 34 of us on the wait list could register. It was nearly dark by the time I finally made it through, near the very end of the line, and got my numbers.
Monday morning I got to the track early, when it was still dark. Then it started to sprinkle. It stopped after a while, but I was a bit late getting started on switching the car over from street to race mode, which involves unloading everything, removing the tailpipes and mufflers, and swapping in the slicks. By the time I got into the staging lanes, cars were already running, and there were hundreds of cars ahead of me. Then five different cars broke something, and put oil on the track, each clean up taking a long time. Then the guys in charge of directing traffic, let all the cars from the SME class run ahead of me! By the time I finally ran, it was after one PM. My run was a bit slower than normal, but everything worked like it should.
Since I had no navigator with me, I decided the best way to follow the route directions would be to follow another car. I made it to the first check point, then spent some time talking with the fellow with the red turbocharged VW bug, who was new to Drag Week. We ended up travelling together most of the way to the town of Norwalk, OH, where the next track is. At the hotel there were lots of other Drag Week cars, so I spent some time in the parking lot talking with new and old racing friends. In the morning, there was no water in the hotel, so no shower. Great start to the day.
I got to the track early, parked in the pits near the concessions because they have great ice cream, and got the car set up. The trunk holds a lot of stuff! but after a few days I get the hang of moving it all, and doing the necessary wrenching. I was able to make a pass early, and got the car back together by 9.
I had noticed that one of the front tires was wearing unevenly, and both were down to the wear bars (having 26,000 miles on the car by then). I had found some bias ply tires that would fit, at Summit Racing, near Akron, OH. It's another 75 miles there, in the wrong direction, but since it was early in the day, I decided to go ahead and head out and get the tires. So I have a picture of my car in front of their store, this is the furthest I've ever driven it, from Arizona to eastern Ohio. When I got back to the track, I eventually discovered that there is a tire shop there, and got the tires mounted.
At the second check point, there was a car wash near by. The car was filthy with bugs and dirt, so I decided to clean it. I knew that rain was forecast for Indianapolis, but that didn't bother me.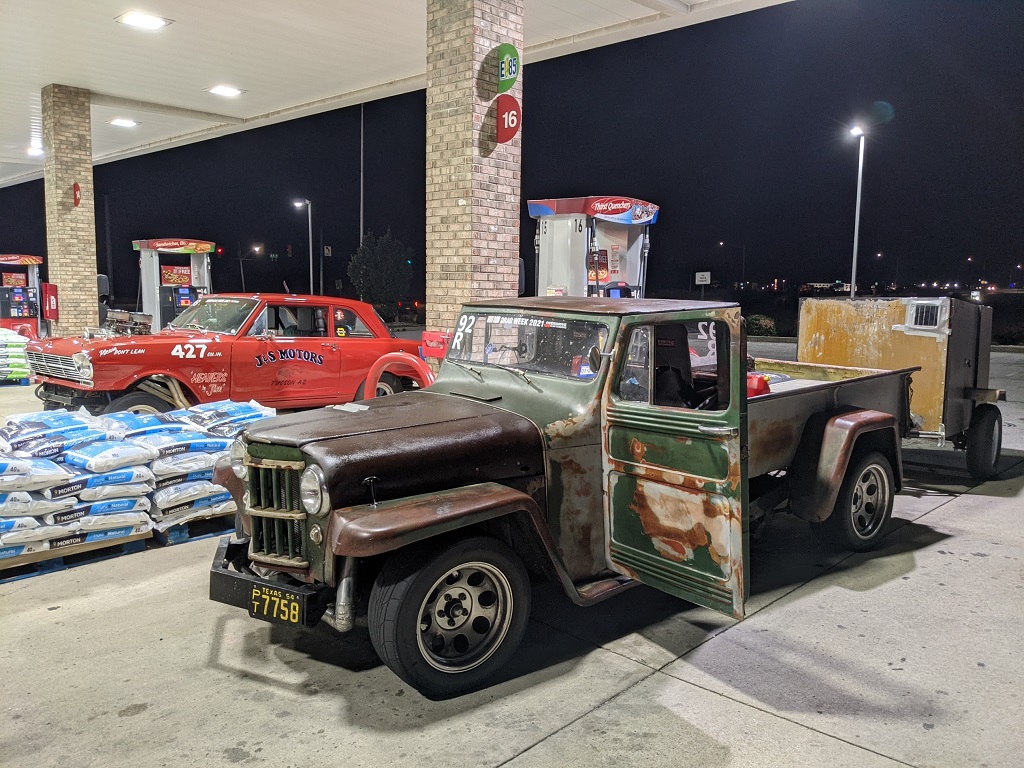 At the check point, I met up with Mark with the early Jeep pickup, with a turbo LS engine. He was traveling alone, but was also good at navigating, and we agreed to travel together the rest of the way to Indy. When we got close to the storm, which was passing over our side of the city, we agreed to stop at a gas station if the weather got too bad.
The weather did get too bad, so we stopped. While waiting for the rain to die down, a blue Firebird pulled in, and three very scared people got out and came into the store. They'd been driving about 55 mph with drag radials (a cross between a street tire and a drag slick, with very little tread), and had spun off the freeway! They didn't hit anything, fortunately. A few minutes later, their traveling companions showed up, and they all spent some time getting their nerves back. We left when the rain died down, and made it to the dive of a hotel.
At Indy, I again got ready and in line early, and got my run done. I decided to take some time wandering around the pits, talking with other racers.
One of the racers I've known since 2013 is Alex Taylor. She started at age 16 with an early Camaro, that eventually got into the mid 8s with a turbocharged LS engine. Her father Dennis has built and raced several other cars, as well. They now have a 55 Chevy unlimited car, which Alex drives. This year, there was a video crew following them around, recording the fun.
My Chevy is kind of unique among Drag Week cars, in that I built it to be as period correct for the mid 60s as I could. The announcer David Freiburger is prety familiar with my car by now, and whenever I ran, he talked up the oldness of it, as well as the fact that I drove it out, and had to drive it home. Most of the racers with reasonably fast cars are smart enough to haul them to the event on a trailer, then they have a way to get the car home if it breaks. The trucks and trailers get locked up on Monday morning, so they can't get them during the week, but it feels different not having the security of that guaranteed ride home.
The first check point Wednesday was at a pleasant rest area off the freeway. While I was sitting in the grass enjoying the shade, one of the fellows from the prison bus wandered over, and asked if I had enough room to take him, because he was tired of riding on the bus. So Scott got to navigate for me the rest of the day, and I dropped him off at his hotel in Rochelle, which is near Byron, IL where we race Thursday.
I stayed up in Rockford, and the drive from there to Byron in the morning is along a beautiful road that follows the river, and is covered with old trees. Once at the track I parked right near the entry to the staging lanes. I got the car ready and made my first run pretty early, but shifted wrong, went from first to third. The home made shifter can be tricky, it takes a bit of attention to do it right, and I didn't. So I got back in the lanes, and made another pass, this time finding something slick on the track a little ways down, so again I ran a bit slow.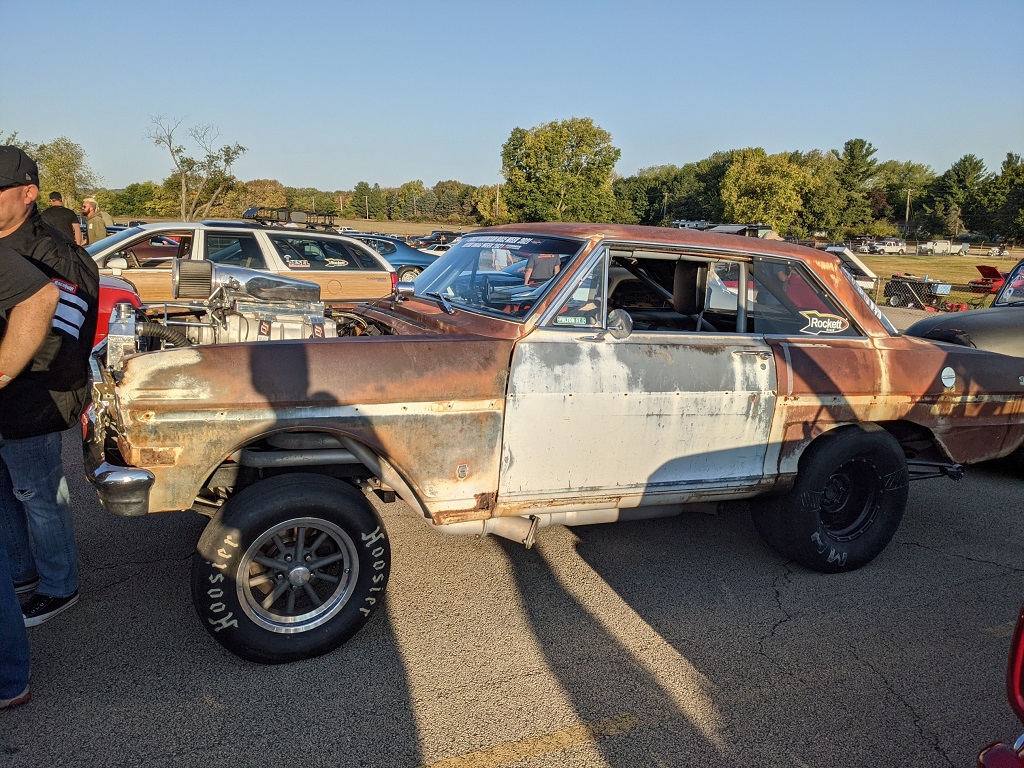 There were only three cars in my class this year, so I was guaranteed a third place finish, if I completed the week. The car in first place is the only other altered wheelbase car that anyone else has entered, that I'm aware of. It's also an early Nova, but it has a 540 cubic inch engine, a larger blower, and electronic fuel injection. He was running about a second quicker than me all week.
The last drive is kind of bittersweet towards the end, because we know that tomorrow Drag Week is over again for another year. So the last check point is a place to hang out for a while, talking to folks, and watching the trailer burnouts that have become a tradition for some racers. Yes, it's a bad idea. No, there weren't any cops around. Yes, I behaved myself when I left.
The last day of racing starts later, since there's no drive to the next track. In front of my hotel in the morning were Alex's 55 and the second fastest car this year, Bryant Goldstone's Javelin. Bryant was out taking a few pictures, and we talked for a few minutes. He had no idea that later that day, he'd be crossing the finish line on his roof! The car was destroyed, but he didn't get any significant injuries, thanks to the serious safety equipment required by the NHRA.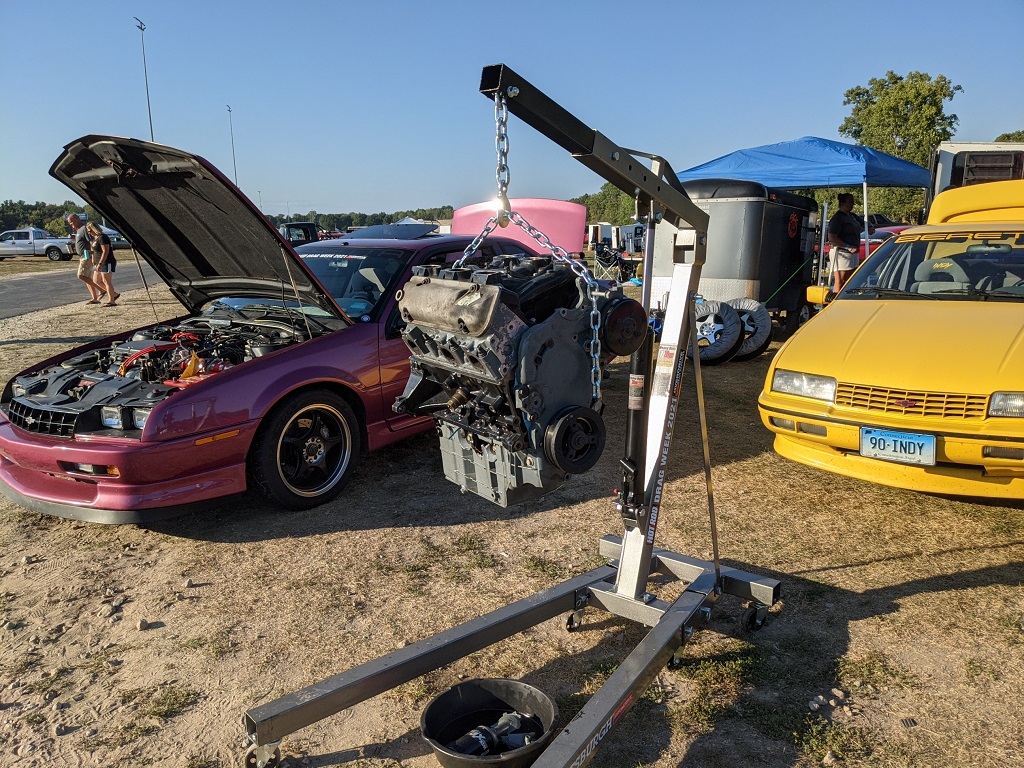 A fun story this year was Jonathon, a new Drag Week participant. He drove his mid 12 second Berretta, with a nitrous V6, out from Rhode Island. On registration day, there is a test and tune racing session. Jonathon had a fuel pump issue, and blew up his engine on the track. I saw him at the drivers meeting Monday morning, and asked if he'd found a replacement engine at a junkyard yet, so he could fix his car. He said he was just going to tow it home. I said No, you have to fix it, that's what we do on Drag Week. Apparently a bunch of other guys also talked to him, and he ended up finding an engine and installing it, and met up with the rest of us on Wednesday in Indy. He was out of competition because he did not race two days, but they allowed him to make runs at the last three races. This is the old engine on Friday. He ended up giving the hoist that some fellow racers had bought him, to the track for others to use in the future.
I got third place in my class, with a 10.38 average ET over the five days of racing. After the awards Friday night, I got a good nights sleep, and hit the road for home Saturday morning. I decided to take the fast way home, so I mostly drove on the freeways that replaced old Route 66. I'd driven a couple of LeMons Rallys on 66 itself it the past few years, so I was pretty familiar with many of the touristy check points. I nabbed a picture on the fly of this one, which had also been a Drag Week check point in 2015.
I made it all the way into Oklahoma the first night, but the neat Skyliner motel in Stroud was full. I found a room at another old place around the corner.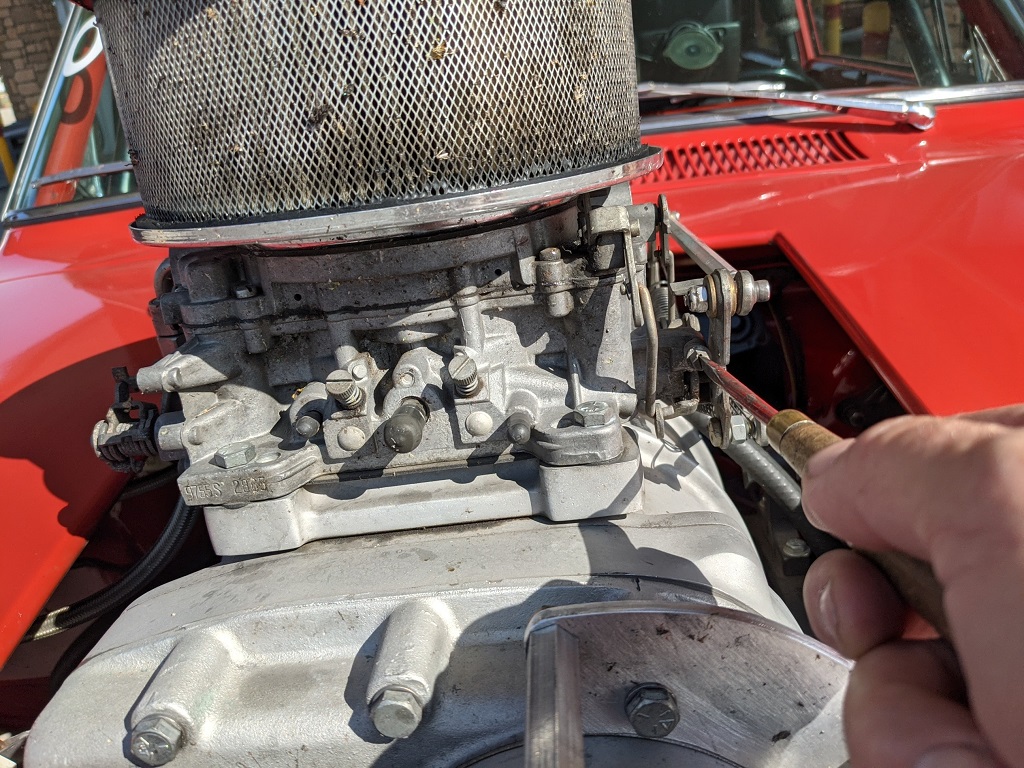 When I got to Amarillo, the elevation change was enough that I had to reset the idle speed back to the "high elevation" setting. I had lowered it in Chicago, on the way up.
There is lots of two lane blacktop in this great country of ours. I got to see a lot of it on this trip.
Finally home, after two very long days of driving. The total miles driven was 5464, and the car got 11 mpg on the trip. I had to add one quart of oil, and less than half a gallon of water, in addition to new front tires, and the master cylinder I replaced in Chicago. I never looked at the spark plugs, points, or valves, although I did adjust the ignition timing in Byron.