Drag Week 2011
Dan and I went on Hot Rod Magazine's Drag Week 2011. Here's some stuff from the trip. The page is arranged sort of like a blog, it starts at the bottom, and goes up as the week progresses.
Also look for more pictures here:
Drag Week 2011 Schedule
Sunday Sept. 11, Heartland Park, Topeka, KS, 8am to 2pm CDT: Registration and Test 'n Tune
Moday, Sept. 12, Day 1 Racing: 9am to noon Heartland Park, Topeka
Tuesday, Sept. 13, Day 2 Racing: 9am to noon SRCA Dragstrip, Great Bend, KS
Wednesday, Sept. 14, Day 3 Racing: 9am to noon Amarillo Dragway, Amarillo, TX
Thursday, Sept. 15, Day 4 Racing: 9am to noon Tulsa Raceway Park, Tulsa, OK
Friday, Sept. 16, Day 5 Finals: 3pm to end Heartland Park, Topeka
Friday back in Topeka. The weather turned nasty, overcast, gray, cold, damp. Racing was in the afternoon-evening, and it didn't rain until after most of the cars made a run. I kind of messed up with my burnout/launching technique and ran a few tenths of a second slow at 11.61. The guys with the gasser did all right, but it didn't count-so they ended up winning their class by just a hair, since the closest competitor (with the faster blown Model A) were quicker, but had a bad day earlier in the week so their average times for both cars were very close.
Here I am waiting in staging lanes
These are the guys we hung out with all week, Mike, Ron, Jason, my copilot Dan, and me. It was a hot rod party the whole week.
Now it's time to head home. There are a few miles on my car, I set the odometer to zero in 1996 when I first built it.
Thursday in Tulsa. Rain delays...then cleanup delays as a few cars dumped liquids and parts...finally ran in the early afternoon, best run of the week, 11.28. We loaded up and headed back to Topeka for the finals, which will be tomorrow afternoon. First gas stop out in the country, that blue minivan stopped too. Apparently it's the rental van that the Hot Rod magazine staff are riding in, they got some pics of our cars, etc. We made it to the hotel without further incident. It was cold today.
Waiting a long time in staging. Nice surroundings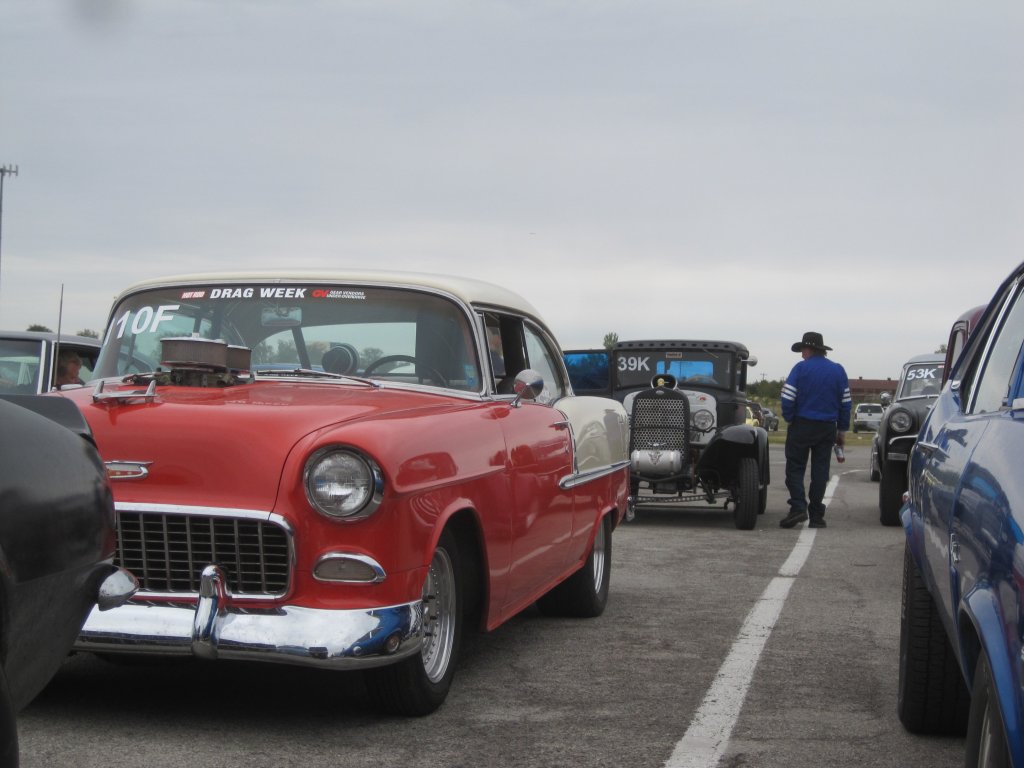 Time slip.
Outside my window at the hotel. This car is in first place. It's run a best of 7.17 at 203 mph. We followed it for a mile or two yesterday, pretty neat watching a car with two parachutes and a wheelie bar motoring down the highway on huge by large tires. Larry Larson definitely has his act together.
Wednesday. Ran in Amarillo. The strip here is kind of rough, and the elevation is way higher than the other cities we're visiting, so times were slow for just about everyone. The stands were full, though. I ran early, and the guys we're traveling with got done by about ten, so we left for the 400+ mile drive to Tulsa. It was a nice day, cool, sunny, the roads were mostly smooth.
here's a neat old Mopar, not sure what's going on with the rearend. It has a crossram 426 wedge
These guys look like hicks, eh? But most hicks don't have slicks and racing fuel on the back of their car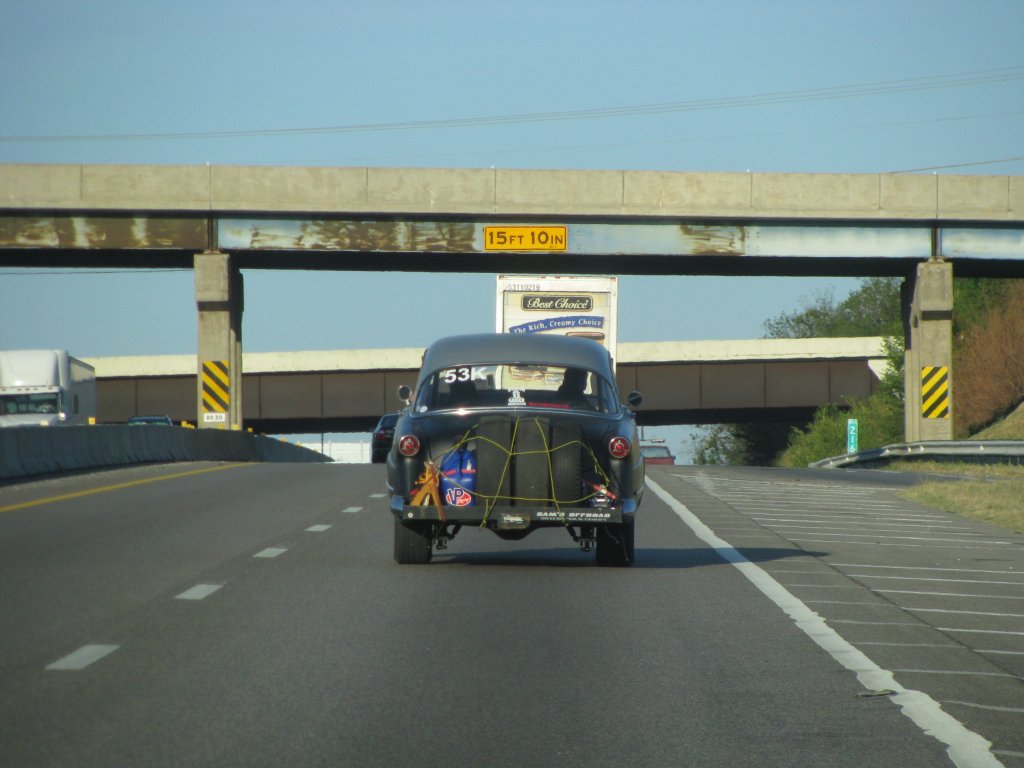 We stopped for some hardware at the hoe depot
Tuesday: We ran at the strip in Great Bend, KS. which was the site of the very first NHRA national event in 1955. Fitting to drive a 55 chevy down that very track.
Here's a picture someone else took
The top car in my class, which suffered a door mishap while parked, shortly after this picture was taken. Hopefully they got it fixed.
We get to see neat stuff around here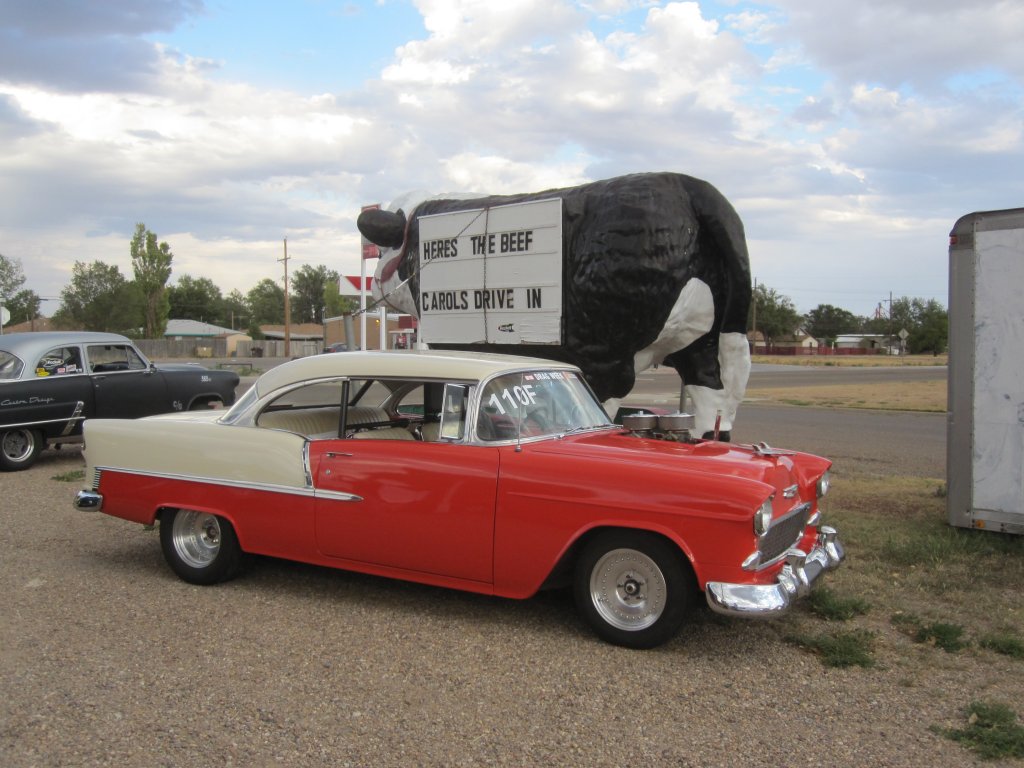 Monday,: Today I ran a 11.46 in the morning, hung around for a while, then drove to Great Bend. We have to follow a specific route, and it had some good obstacles, like railroad crossings,construction zones, freeway driving, etc. And it was nice and warm out in the west end of the state.
We get to take pictures like this, as part of the competition, to verify we went on the specified route
getting ready to run: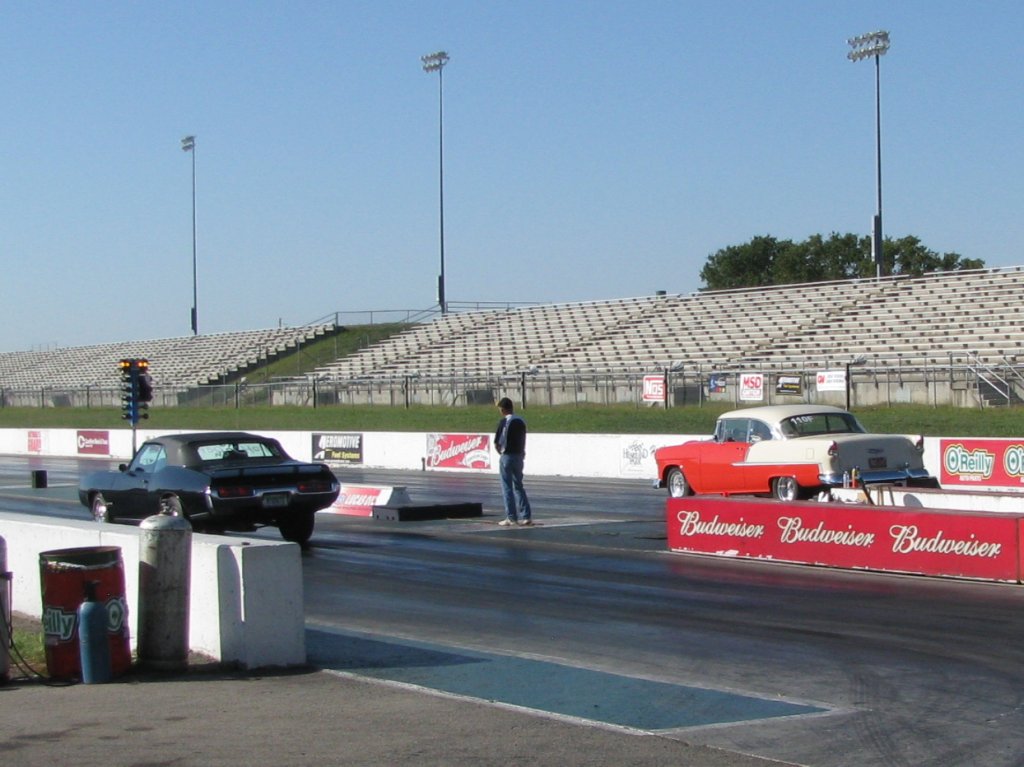 we've been hanging out with these clowns, they're a lot of fun: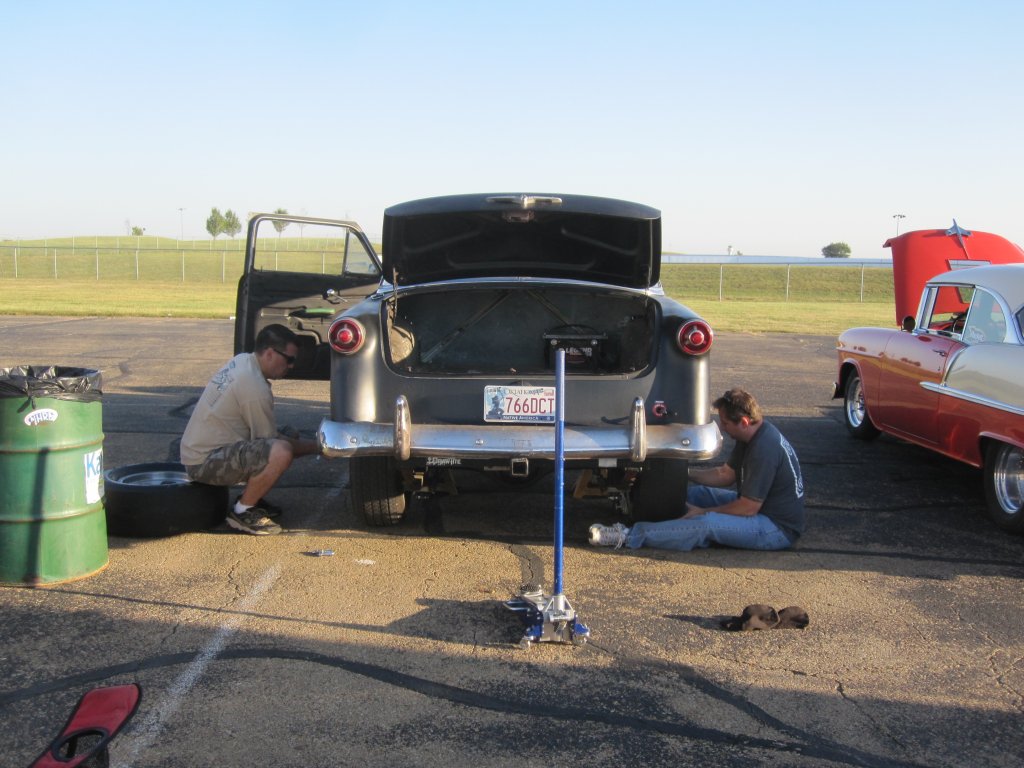 people will race anything:
Sunday: First day a the strip. Tech inspection, registration, test runs. I made one run, 11.52 at 118, shifting early. Car seems to be working ok. Here are a few other cars.
Saturday:We made it to the hotel in Topeka.